Fred Hersch - Songs from Home (cl)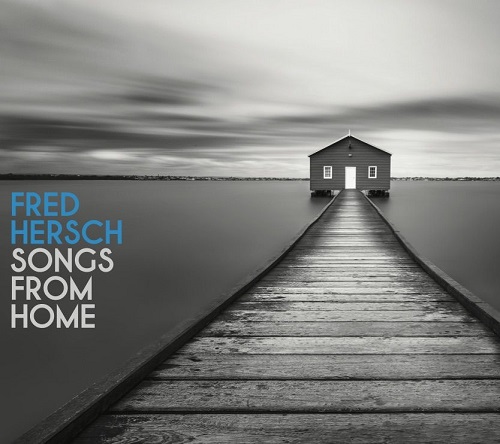 F
Palmetto Records/L'Autre Distribution/Stilletto
Pour célébrer son 65ème anniversaire, Fred Hersch a décidé, en quarantaine, d'enregistrer cet album solo dans sa maison en Pennsylvanie, en guise de pied de nez à la pandémie mais aussi à une certaine Amérique.
Le pianiste avait déjà donné un autre sens au confinement en proposant, quotidiennement, son Tune of the Day sur Facebook: histoire de montrer qu'on peut rester créatif malgré ce repli chez soi.
A côté de ses albums en trio comme The Village Vanguard de 2018, avec Drew Gress et Tom Rainey, de ses rencontres fructueuses, comme avec le trompettiste Ralph Alessi (Only Many), Hersch avait déjà enregistré plusieurs albums solo, come Alone at the Vanguard en 2011, Solo en 2015, Open Book en 2017, un challenge qu'aime à relever l'Américain: "Any solo record is essentially about the relationship between the pianist and the particular piano. My piano is a 50-year old Steinway Model B. Rather be frustrated that it wasn't a perfect piano, I embraced the flaws."
Dix plages constituent cet album solo "at home". Des classiques, des compositions originales et des emprunts aux "pop songs".
L'album s'ouvre tout en recueillement sur Wouldn't be loverly de Loewe. Même sérénité empreinte de solennité pour Sarabande qu'il a enregistré en trio, en 1986, avec Charlie Haden et Joey Baron ou pour la version très personnelle de Solitude d'Ellington. Des thèmes très mélodiques comme Witchta Lineman, West Virginia Rose (une composition originale) ou Consolation (A Folk Song) de Kenny Wheeler, des solos tout en délicatesse comme All I want de Joni Mitchell. Des pièces au tempo nettement plus enlevé comme Get out of town de Cole Porter qui révèle un technicien parfaitement ambidextre. Et puis, en clin d'oeil, des versions "stride" de When I'm Sixty-four de Lennon et McCartney ou After you've gone de 1918.
C'est évidemment un heureux hasard de recevoir cet album en plein cirque électoral américain: la preuve qu'on peut rester créatif même en respectant les règles du confinement, au lieu de parader, comme un fier cowboy, sans masque, sans règle de distanciation, en soutien au grand sheriff barnumesque.
© Claude Loxhay