Fred Hersch - Breath By Breath (ra)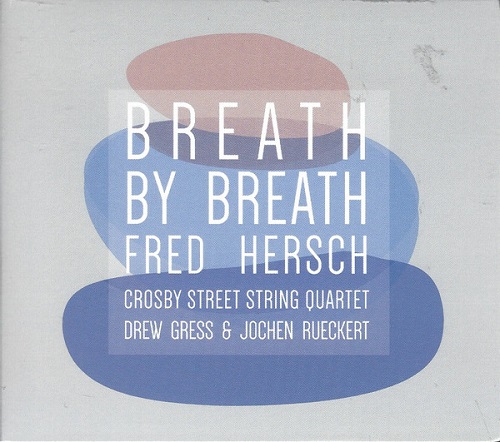 F
Palmetto Records / Stilletto
Het jaar is nog maar net begonnen of we worden al getrakteerd op een release van de nieuwe cd van de legendarische Amerikaanse pianist Fred Hersch. Een nieuw album van Hersch is per definitie een feestje. Na zijn in thuisisolatie  opgenomen soloalbum 'Songs from Home' heeft Hersch weer gezelschap opgezocht. In dit geval van o.a. het Crosby Street String Quartet. 
Hersch heeft al sinds zijn prille jeugd mooie herinneringen aan strijkkwartetten, o.a. als toehoorder van de in de huiskamer van zijn pianolerares georganiseerde repetities van het strijkkwartet, waarin de partner van zijn lerares de cello bespeelde.
In de anderhalf jaar sinds COVID-19 zijn intrede heeft gedaan in ons dagelijks leven, heeft Hersch zijn toevlucht gezocht (en gevonden) in de meditatie en dat is duidelijk terug te horen in de muziek en in de titels van de composities op dit album, allemaal van de hand van de pianist zelf. Acht van de negen composities maken onderdeel uit van 'The Sati Suite' (Pali voor: "mindfulness"  of bewustzijn). Neem alleen al het titelnummer. De ademhaling als proces van respiratie, maar ook als een ding om onder controle te krijgen. In het trage tempo van een rustige ademhaling wentelt het pianospel van Hersch zich rondom het adagio uitgevoerde strijkwerk. Een meditatieve compositie en daarmee een uitstekend medicijn tegen de stress van alledag. Hetzelfde gevoel ervaren we in 'Rising, Falling', dat wederom een verwijzing is naar de ademhaling - die hier wordt vertolkt door de baslijn.
In het nummer 'Mara' voegt Rogerio Boccato een meditatief element toe. Boccato's percussie in combinatie met de strijkers komen samen in een hypnotiserende melodie die  doet denken aan The Plum Blossom van Yusef Lateefs album 'Eastern Sounds' (1961).
In het slotdeel van de suite, 'Worldly Winds', gaan de remmen los en worden we meegevoerd in een wervelstorm waarin de strijkers telkens een tandje moeten bijzetten om het door Gress en Rueckert opgevoerde tempo bij te kunnen benen.
Einde meditatie? Nee nog niet, want de cd eindigt met een aan Robert Schumann opgedragen 'Pastorale', variaties op een romantisch thema. Een klassieker einde is bijna niet denkbaar. Hersch stelt zich hier uiterst dienstbaar op aan de muziek en de muzikanten die hij heeft uitgenodigd om aan dit project mee te werken.
'Breath by breath' is niet alleen het resultaat van anderhalf jaar aan beperkingen, het is vooral een terugkeer naar Hersch' inspiratie en de contemplatie. Een welkome gift aan de door alle beperkingen tot wanhoop gedreven muzikale fijnproever.
© Robin Arends

Tracks:
1 Begin Again
2 Awakened Heart
3 Breath By Breath
4 Monkey Mind
5 Rising, Falling
6 Mara
7 Know That You Are
8 Worldly Winds
9 Pastorale (homage à Robert Schumann)


Bezetting:
Fred Hersch - piano
Drew Gress - contrabas
Jochen Rueckert - drums
Rogerio Boccato, percussie (op Mara)
Crosby Street String Quartet:
Joyce Hammann – viool
Laura Seaton - viool
Lois Martin - altviool
Jody Redhage Ferber - cello

Geproduceerd door Franky Rousseau & Fred Hersch
Producer: Missi Callazzo
Engineers: James Farber & David Stoller
Mix dor Brian Montgomery
Gemasterd door Klaus Scheurmann
Opgenomen in The Samurai Hotel, Storia NY op 24 en 25 augustus 2021