Fred Frith Live At The Stone – All Is Always Now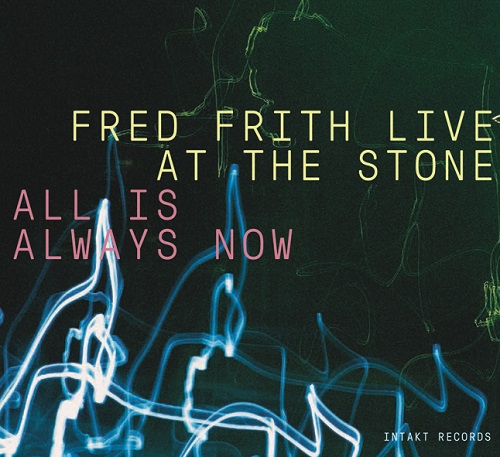 F
Intakt
Tussen 2006 en 2016 speelde het enfant terrible van de internationale improvisatiescene zo een tachtigtal concerten in de New Yorkse avant-garde club The Stone. Een aantal van deze optredens werd opgenomen. Hieruit werd een selectie gemaakt en deze is nu terug te vinden op de driedubbele 'All Is Always Now'.
'Fred Frith Live At The Stone' bevat maar liefst drieëntwintig stukken pure improvisatie met de meest diverse gasten. De lijst oogt indrukwekkend. Laurie Anderson, Sylvie Courvoisier, Evan Parker en Nate Wooley zijn slechts een handvol gelijkgestemde muzikanten onder diegenen die ingingen op Friths uitnodiging om zich te wagen aan deze uitdaging. Zelf is onze held te horen op piano, akoestische gitaar en zelfgebouwde instrumenten.
De enige constante bij deze "performances": het ontstijgen van elke vertrouwde matrix door het podium op te stappen zonder enige vorm van planning of voorbereiding. Gekras, geknutsel, snarengepluk en rare bevreemdende geluiden galore maar ook een aantal etherische passages en zelfs harmonieus opgebouwde flarden. Kortom, de vertrouwde klanken uit het atelier van Frith. Met zelfs af en toe een herkenbaar aanknopingspunt.
Abstract en organisch wisselen elkaar af. Nu eens claustrofobisch dan weer verrassend transparant. En natuurlijk dissonanten à gogo. Prikkelend maar ook frustrerend. In het boekje een interview met Frith over zijn werkwijze.
Mocht u nog twijfelen, dit is vooral geen standaard gitaarplaat. Drie cd's na elkaar met een totale speelduur van 197'23 minuten is een lange zit. Overkill is dus zeker niet ondenkbaar. Zelfs doorwinterde fans genieten hiervan best met mate.


Musici:
Fred Frith: piano, akoestische gitaar, objecten
+ gasten:
Laurie Anderson, Amma Ateria, Sylvie Courvoisier, Nava Dunkelman, Jordan Glenn, Shelley Hirsch, Jason Hoopes, Annie Lewandowski, Jessica Lurie, Miya Masaoka, Ikue Mori, Pauline Oliveros, Evan Parker, Gyan Riley, Sudhu Tewari, Clara Weil, Theresa Wong, Nate Wooley


© Georges Tonla Briquet