Franck Amsallem - Gotham Goodbye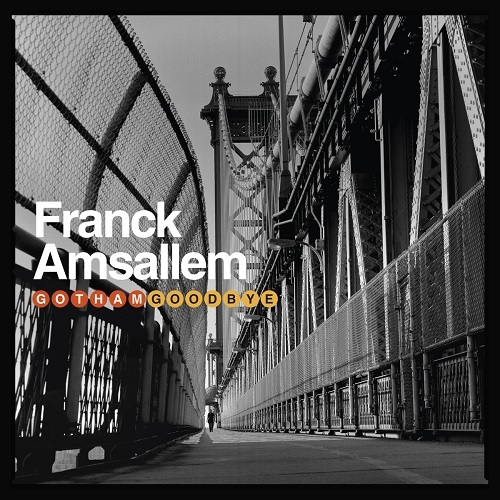 F
Jazz&People
Dans les années '90, on avait découvert le pianiste français Franck Amsallem, en trio avec une rythmique hors pair, soit Gary Peacock et Bill Stewart, mais aussi en quartet, avec le saxophoniste Tim Ries, d'une part, avec une rythmique américaine, soit Scott Colley et Bill Stewart, d'autre part, avec une rythmique française constituée de Riccardo Del Fra et Daniel Humair (Years gone by).
Les albums suivants avaient confirmé son grand talent de compositeur et de pianiste, sa grande technique et son sens inné du rythme. Lors des années 2000, on avait quitté un Franck Amsallem chanteur et grand amateur de standards (F. Amsallem sings 1 et 2), sans être vraiment convaincu par ce virage.
Voici que revient pleinement le pianiste avec Gotham Goodbye: 8 compositions personnelles auxquelles s'ajoute le Last night when we were Young d'Harold Arlen. Pour cet album, Franck Amsallem a rassemblé une équipe solide.
Au saxophone ténor, Irving Acao. Natif de Cuba, il a beaucoup joué avec Chucho Valdès. Arrivé à Paris en 2002, il a côtoyé Alain-Jean Marie comme Stéphane Belmondo et formé un quartet avec le pianiste Leonardo Montana.
A la contrebasse, Viktor Nyberg, qui a joué  avec Pierrick Pedron, Jacky Terrasson, Rick Margitza, Igor Gehenot et Alex Tassel (album Delta)
A la batterie, Gautier Garrigue qui a enregistré avec David Enhco (Horizons), Roberto Negro, Logan Richardson et Henri Texier (Sand Woman).



On retrouve toute la fougue du pianiste comme ses talents de compositeur et on découvre un saxophoniste à la sonorité franche et ondoyante.
Tout au long de l'album, Amsallem fait se succéder composition groovy (Baton rouge sur une pulsion vigoureuse imposée par Nyberg et Garrigue), tempos vifs (From two to five, Standard form, ou From twelve to four, avec un bel unisson piano/saxophone), rythme tournoyant (Gotham Goodbye) et ballades (A night in Ashland, introduit par la contrebasse, Last night when we were Young, In memoriam).
Un très bel album d'un pianiste qui a partagé sa carrière entre Etats-Unis (il a accompagné Gerry Mulligan) et Europe.
© Claude Loxhay