Florian Arbenz, Joāo Barradas, Tineke Postma, Rafael Jerjen - Conversation #5 – Elemental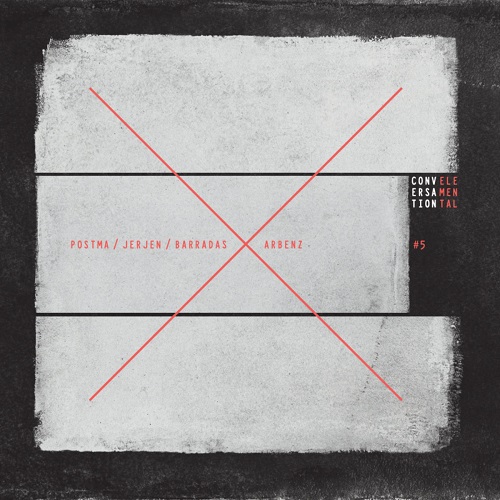 F
Hammer Recordings
Drummer Florian Arbenz kennen we van zijn Zwitserse trio VEIN en de samenwerking met onder meer Dave Liebman, Rick Margitza, Andy Sheppard, Greg Osby en Olah Kalman. Zijn ambitie is het uitbrengen van 12 albums over 12 verschillend samengestelde bands.
De musici, sommige vertrouwd, andere die hij bewondert, nodigt hij uit in zijn Hammer studio in Bazel.
Voor het vijfde album, 'Conversation #5, Elemental', deed hij beroep op de Nederlandse saxofoniste Tineke Postma die als Downbeat 'rising star' internationaal gewaardeerd wordt. Maar we kennen haar o.a. van de recente releases met Nathalie Loriers.
Arbenz nodigde verder de Portugese accordeonist Joāo Barradas uit, die tot tweemaal toe de World Accordion Trophy in de wacht sleepte en de Zwitsers-Australische bassist Rafael Jerjen. Deze laatste studeerde in Australië, New York (John Patitucci), Berlijn en Zwitserland (Master of Arts in Jazz Performance – University of Applied Sciences and Arts – Luzern).
Florian Arbenz schreef op twee na alle nummers maar geeft de topmuzikanten duidelijk ruimte om improviserend een ultieme mix tot stand te brengen. Tineke Postma schittert over heel de lijn. Ze excelleert in het fijne 'Reverie' en gaat voluit in het free style swingende 'Waking With a Start', een compositie van Michael Arbenz. Dat drijft verder op de meesterlijke drums van Arbenz met ook fraaie bas- en accordeon soli. Een exemplarische track van Arbenz' complexe sound met verrassende ontplooiing en perfecte blending.
In het nostalgische 'Luna Volver' (Dino Saluzzi) soleert Barradas virtuoos en Postma valt sfeervol in.
'Shooting The Breeze' zweeft tussen jazz en klassieke kamermuziek, maar krijgt mede door de intense interactie en stuwing van de drums – subtiele solo van Arbenz – onderlijnd door bas en accordeon een spannende insteek.
In de drie laatste nummers van het album overheerst het meditatieve met een fraaie baslijn en percussie-effecten in 'The Passage of Light', een gebald pure sax en drums in 'Prelude' en een gesofistikeerde naar third stream neigende 'Freedom Jazz Fugue'.
Florian Arbenz tekent met 'Elemental' voor een bekoorlijk brokje kamerjazz van klasse waarin een fijn gedoseerde spanning door een pittige blend van stijlvolle improvisatie en voortreffelijke instrumentatie dankzij perfect gekozen muzikale partners.

© Bernard Lefèvre




Musici:
Florian Arbenz (drums, percussie, composities)
Tineke Postma (altsax, sopraansax)
Joāo Barradas (accordeon)
Rafael Jerjen (bas)

https://florianarbenz.com/