Flat Earth Society - BOGGAMASTA III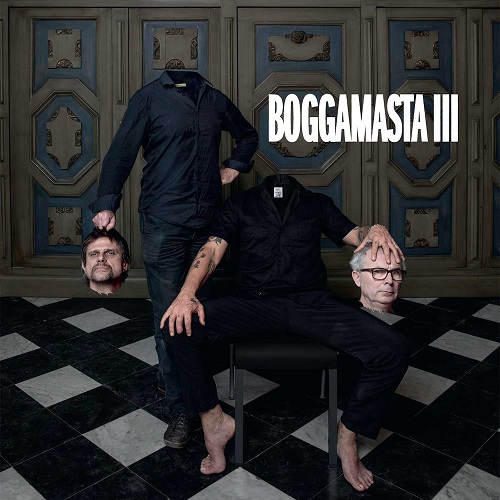 F
IGLOO Records
Après "Boggamasta" en 2017, Peter Vermeersch et David 9 ½ Bovée poursuivent leur délire collectif avec "Boggamasta III". Non, vous n'avez pas raté une étape : selon nos deux zigs, cela faisait trois ans depuis le numéro un, il était grand temps de passer au numéro trois ! Faut avouer sans gêne, la musique du FES nous manquait un peu et on ne sera pas déçu par ce nouvel épisode déjanté. Pour rappel, le mot "Boggamasta", dérivé du mot "bourgmestre" leur a été inspiré par la courte trajectoire d'un milliardaire gambien Yahya Jammeh qu'ils virent dans la capitale arroser la foule de billets de banque depuis son Hummer décapotable !
Avec 'Dust From The Stars', l'album donne le ton d'une musique essentiellement centrée sur une armada de souffleurs : quatre saxes, un tuba, deux trompettes (Bart Maris et Pauline Leblond), deux trompettes, deux trombones. C'est ce brass band qui introduit le thème suivi d'un 'call & response' (faut bien trouver une référence !) entre voix féminines et masculines électrifiées.
Un schéma qui se répète sur le seul thème qui ne soit pas du duo Vermeersch/Bovéee, 'Trust in Me', le thème bien connu de Robert et Richard Sherman pour le film 'Le Livre de la Jungle'. 'Carbon Based' plein de groove et de rythme, ne manque pas d'humour décalé, alors que sur le (trop ?) long 'What' on laissera à chacun entendre des références sombres à un géant du glam rock anglais, ou à une fanfare néoorléanaise, voire au 'Dies Irae' ! 
'Moog for You' est un sommet de délire vocal et instrumental, peut-être encore plus que tout le reste, 'Breathe in the Colour Pink' me parait être la pièce rythmiquement la plus dansante, et 'Slave Driver' clôture l'album sur un tempo lent et des effets de distorsions vocales qu'on retrouve d'ailleurs dans l'ensemble des morceaux.
C'est fun du début à la fin, décalé, énergique à souhait, grouillant d'idées et d'originalité tout en s'attachant des références – on pourrait citer Mingus, Zappa, Weil et pourquoi pas la face jungle d'Ellington. Et pour rester dans l'originalité, "Boggamasta III" ne sort qu'en version téléchargée HR et en… double LP 45trs. C'est clair, "Boggamasta III" nous fera oublier le vide de "Boggamsta II" !!
© Jean-Pierre Goffin