Filippo Bianchini Quartet - Disorder at the Border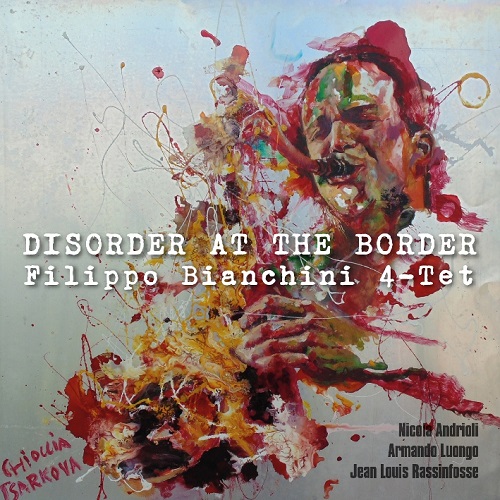 F
September
Voilà un album qui va plaire à tous les amoureux de la tradition: un saxophoniste inspiré par la lignée Coltrane de l'époque de Giant Steps, en compagnie de quelques-uns de meilleurs illustrateurs de la scène belge et internationale actuelle.
Né à Orvieto, Filippo Bianchini a grandi à Rome, découvert le jazz au travers des LP de Parker, Rollins, Coltrane et fatalement Massimo Urbani. Il a étudié au Conservatoire de Pérouse avec le saxophoniste Mario Raja, puis à Den Hague avec John Ruocco et s'est installé à Bruxelles en 2013.
Il a enregisté avec le Terni Jazz Orchestra en 2006, avec le pianiste Lorenzo Agnifili en 2011 (Looking for) et avec le chanteur Carlo Martinelli (Caratteri Mobili, cette année).
Le voici en quartet avec de réels complices de la scène belge. Au piano, son compatriote Nicola Andrioli qui s'est imposé dans notre pays en compagnie de Philip Catherine (Côté Jardin), Barbara Wiernik (Complicity), Lorenzo Di Maio (Black Rainbow), Mimi Verderame ou Manolo Cabras, au sein d'un quartet avec Jean-Paul Estiévenart. A la contrebasse, un monument... Jean-Louis Rassinfosse (dans une forme étincellante) et, à la batterie, Armando Luongo qu'on a entendu en compagnie d'Adrien Volant, Joachim Caffonnette ou, en trio, avec Quentin Liégeois, en hommage à René Thomas. En invités, sur deux plages, John Ruocco à la clarinette et au ténor mais aussi le trompettiste portugais Rodolfo Neves, un habitué du Hot Club du Portugal.
Au répertoire pour cet album préfacé par Emanuele Cisi (saxophoniste italien qui a enregistré avec Nathalie Loriers et Bart Defoort), six compositions du leader, dont l'une, Song for Sat, arrangée par son ami Lorenzo Agnifili; Pretext de Michel Herr (une composition qui figure notamment sur l'album Intuition, avec Hein van de Geyn et Leroy Lowe) et Weaver of dreams, un classique entre autres enregistré par Rollins.
De belles ballades interprétées au ténor, comme Weaver of dreams ou Try not to be angry (avec un tempo qui s'accélère), des thèmes aux envolées échevelées au ténor (Pretext, FAB, Disorder at the Border), ou au soprano (Dance for my friends, avec Fender Rodes en arrière plan) et deux plages avec invités: Song for Sat, joué au soprano, avec un beau solo de ténor de Ruocco et Rodolfo Neves au bugle puis Mad Blues, avec une intro magique de Ruocco à la clarinette, rejointe par le ténor de Bianchini et la trompette de Neves. Les sidemen sont constamment mis en valeur: Andrioli en verve, notamment sur Try not to be angry ou Song for Nat, Rassinfosse sur les mêmes plages, avec sa sonorité ronde et peline et Luongo sur Dance for my friends.
"From the first notes of this CD, you will clearly perceive the soul and the musical thoughts of Filippo Bianchini. Intensily, honestly, lyricism are the words that came to mind... Filippo is a musician who knows how to be an excellent interpreter and a leader at the same time" (E. Cisi).
Un album qui requiert toute notre attention dans notre "jungle" du jazz belge... Quelqu'un à découvrir aussi en scène.

Claude Loxhay