Fil Caporali - Fortune Teller (CL)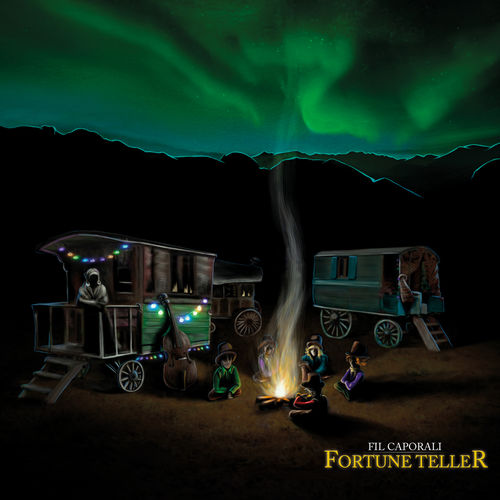 F
Unit Records
En marge du concert donné par le quintet de Fil Caporali, lors de l'apéro-jazz Ca Balance aux Chiroux, voici l'album Fortune Teller enregistré pour le label suisse Unit.
Un Brésilien (Fil Caporali à la contrebasse), un Italien (Marco Giongrandi à la guitare), trois Français (Théo Lanau à la batterie, Pauline Leblond à la trompette et Hélène Duret aux clarinettes): une rencontre improbable? Tous les 5 sont passés par le Conservatoire de Bruxelles.
Né à São Paulo, Fil Caporali a d'abord suivi les cours de la Universidade Livre de Musica, dirigée par Antonio Carlos Jobim, avant de poursuivre son Master à Bruxelles, en 2014, en compagnie du Français Christophe Wallemme. Membre du trio de la pianiste Margaux Vranken et de l'Oriental Project de la pianiste Marie Fikry, le voici leader d'un quintet aux subtiles alliances sonores.
A la guitare, Marco Giongrandi. Né à Milan, il a d'abord étudié avec Roberto Cecchetto, le guitariste de l'Electric Five d'Enrico Rava, avant de rejoindre Bruxelles pour y poursuivre, lui aussi, son Master.
A la trompette, Pauline Leblond. Née en Normandie, elle a étudié la trompette classique et jazz en France, avant de rejoindre Bruxelles. Membre du tentet de Geoffrey Fiorese, aux côtés de Thomas Mayade, elle dirige un trio avec Cedric Raymond et Matthias De Waele.
Aux clarinette et clarinette basse, Hélène Duret. D'abord initiée au chant, elle a poursuivi des études classiques au Conservatoire de Montpellier et s'est initiée au jazz, notamment avec Serge Lazarevitch, avant de gagner Bruxelles, en 2013, sous la férule de John Ruocco.
A la batterie, Théo Lanau qu'on avait découvert au sein du trio d'Amaury Faye (Clearway, Live in Brussels). Après avoir découvert le jazz au Collège de Marciac, il a étudié au Conservatoire de Paris avec Daniel Humair puis à Bruxelles avec Stéphane Galland.
Pour cet album Unit, Fil Caporali a conçu 11 compositions originales, parmi lesquelles Fortune Teller, aux ambiances atmosphériques dues notamment à la guitare, se décline en trois "mouvements": The Elephant Dream, Inner thoughts et Bonfire and fiery dust. Tout au long de l'album, le quintet, tirant le meilleur profit de sa palette sonore, use d'alliances sonores originales: alliance trompette-clarinette sur Apple pie lullaby; clarinette basse, contrebasse jouée à l'archet puis trompette avec sourdine sur Nowhere market; trompette bouchée et clarinette qui débouchent sur un beau passage entre guitare et contrebasse, avec jeu tout en délicatesse de Theo Lanau.
Une musique profondément originale aux rythmes berceurs comme sur Valsa dos balões.



© Claude Loxhay
Article aussi publié sur jazzaroundmag