Fabrice Alleman & Chamber Orchestra – UDiverse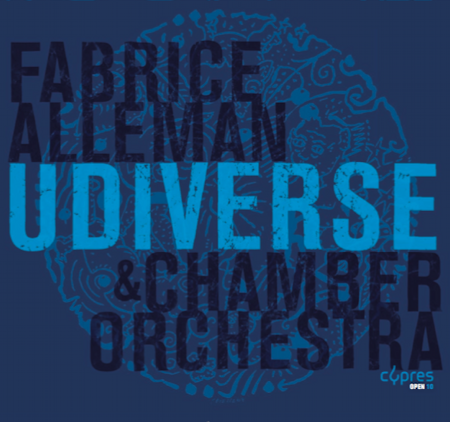 F
Cypres
Vroeg of laat stelt elke artiest zichzelf in vraag. Het vervolg is stoppen of beginnen dromen van een groots project. Bij Fabrice Alleman kwam de "déclic" tien jaar geleden en mondde tenslotte uit in deze 'UDiverse'.
Het was een lange weg die Alleman aflegde: een decennium van twijfelen en nadenken waarvan de helft om alle ideeën uit te werken en dan nog een jaar van opnemen en afwerken. Dit alles met in zijn hoofd het thema "unity in diversity" dat hij verboog tot 'UDiverse' om tot de cd-titel te komen.
De klassieke intro met strijkers wordt via de sopraansaxofoon vlekkeloos omgeleid naar een jazzidioom dat weliswaar ingekapseld blijft in een groter orkestraal geheel. Het is een uitwisseling/wisselwerking die gedurende net iets meer dan een uur vanuit verschillende invalshoeken uitgetest wordt. De schrifturen van klassiek en jazz worden aangewend als elkaars yin en yang, vervat in een continue flow zodat er een uiterst nauwe relatie ontstaat. De karakteristieken van sterk georkestreerde filmmuziek zijn daarbij legio.
Alleman verloochent helemaal zijn jazzverleden niet, hij stelt de luisteraar evenmin voor een keuze. Het is eerder een samenvoegen van diverse interesses die hij jaren liet rijpen en nu bewust en gedetailleerd uitwerkte. Voor de arrangementen deed hij beroep op Michel Herr die hier nog eens bewijst dat hij op dat gebied tot de wereldtop behoort. De Argentijnse pianist en componist Lalo Zanelli leverde eveneens een eigen nummer.
Het trio dat voor de jazzaccenten zorgt, wordt gevormd door Vincent Bruyninckx (piano), Sam Gerstmans (contrabas) en Frédéric Jacquemin (drums). Klassieke tegenhangers zijn het Orchestre de chambre de Liège en het Ensemble Quartz. Notoire gastmuzikanten zijn gitaristen Fred Favarel en Philip Catherine samen met percussionist Minino Garay. Uiteindelijk klinkt het alsof alle muzikanten deel uitmaken van hetzelfde orkest. Ze musiceren niet als alleenstaande entiteiten om elkaar af en toe even te benaderen. De symbiose is totaal en dat over heel de lijn.
Een unieke suite voor sopraansaxofoon en kamerorkest die een plaats verdient op het programma van elk zichzelf respecterende concertzaal.
© Georges Tonla Briquet



Musici:

Fabrice Alleman - soprano sax
Vincent Bruyninckx - piano
Sam Gerstmans - contrabas
Frédéric Jacquemin - drums
+ guests :
Philip Catherine - gitaar (in "What's love")
Fred Favarel - gitaren op # 3, 5, 7, 9
Minino Garay - bombo, percussie op # 1, 3, 5, 6, 7, 9
Orchestre de Chambre de Liège - strings
Ensemble Quartz - winds (2 dwarsfluiten, hobo/Engelse hoorn, bassklarinet, 2 Franse Hoorns)
Ingrid Procureur - harp

Informatie:
http://www.michelherr.com/en/bands_pages/alleman_chamber_en.html