F. Zeppetella - E. Bex - G. Laurent - R. Gatto: Chansons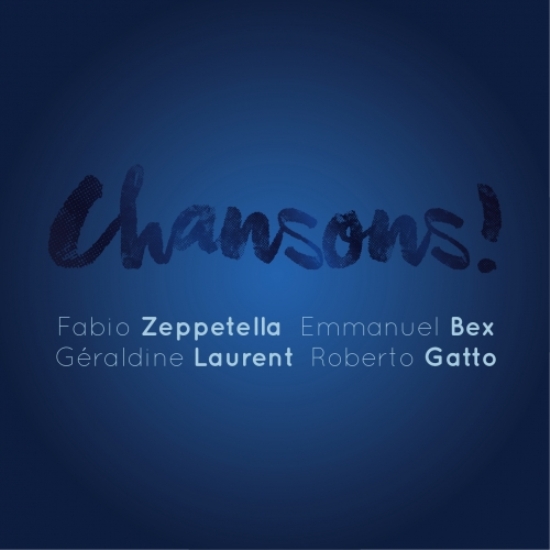 F
Via Veneto Jazz
Le guitariste italien Fabio Zeppetella a une belle discographie à son actif, notamment Moving Lines avec Kenny Wheeler, The Auditorium Session avec Tom Harrell et le saxophoniste Maurizio Giammarco ou encore cet album référence, A Tribute to Wes Montgomery, en compagnie de l'organiste français Emmanuel Bex et du batteur "aux pieds nus" Roberto Gatto.
Emmanuel Bex a apporté un réel renouveau à l'orgue Hammond, que ce soit en trio avec le tromboniste américain Glenn Ferris (album Now or never), avec le guitariste Gérard Marais (Poissoin nageur) ou le saxophoniste italien Francesco Bearzatti (Open Gate) mais aussi dans ce Because of Bechet d'Aldo Romano, en compagnie des saxophonistes Emanuele Cisi et Francesco Bearzatti.
Roberto Gatto a croisé les grands noms du jazz américain, de Chet à Lee Konitz, en passant par John Scofield ou Michael Brecker mais aussi la crème du jazz italien: les pianistes Enrico Pieranunzi, Franco d'Andrea, Stefano Battaglia ou Stefano Bollani, comme les trompettistes Enrica Rava et Paolo Fresu (rassemblés pour Shades of Chet) ou le clarinettiste Gianluigi Trovesi. Bref, un musicien incontournable qui sait allier puissance et légèreté.
Complète ce quartet la saxophoniste alto Géraldine Laurent que l'on avait découverte, lors d'un Jazz à Liège, en compagnie d'Aldo Romano et d'Henri Texier (album Just Jazz avec Mauro Negri à la clarinette puis hommage à Don Cherry avec Fabrizio Bosso à la trompette). A son nom, elle a enregistré Around Gigi avec le pianiste Pierre de Bethmann et, dernièrement, At Work avec Yoni Zelnik.
Plusieurs musiciens italiens ont consacré des albums à la chanson populaire italienne: Enrico Rava (Italian Ballads), Paolo Fresu (Volare) ou la chanteuse Tiziana Ghiglioni (Canta Luigi Tenco, en compagnie de Paolo Fresu et Gianluigi Trovesi).
Le quartet réuni ici présente la particularité de reprendre non seulement des succès italiens (Pino Daniele, De Gregori...) mais aussi des chansons françaises célèbres (Brel, Ferré, Joe Dassin...), ainsi que l'a fait, depuis longtemps chez nous, le trio de L'Ame des Poètes.
La guitare de Zeppetella, dans cette grande tradition qui va de Wes Montgomery à Jim Hall, se montre lyrique à souhait, en symbiose avec l'orgue de Bex et l'alto volubile de Géraldine Laurent, mais aussi énergique (A me me piace 'o blues, C'est si bon), voire rock (L'été indien).
Deux réticences, personnelles et subjectives, malgré tout: je préfère entendre Bex à l'orgue sans effet de vocoder (Napule è, Le bon dieu) et je trouve qu'ici les chansons italiennes s'adaptent mieux à une adaptation jazz que les titres français. Cependant on doit reconnaître que ce répertoire biface correspond parfaitement à ce quartet franco-italien et à son projet: "Chansons est une idée musicale, un traité de diplomatie, une accolade entre cousins... deux mondes très proches."

Claude Loxhay