Ethan Iverson Quartet with Tom Harrell - Common Practice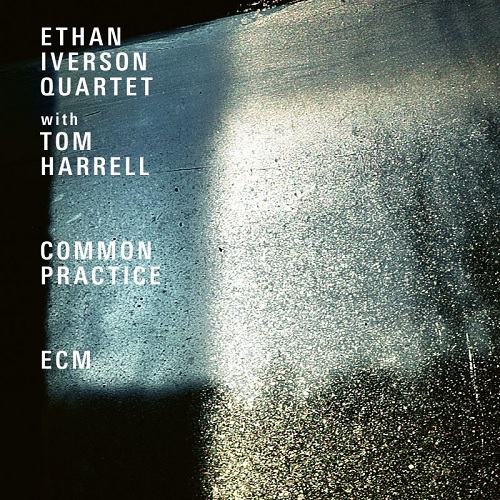 E
ECM/Newartsint.
Après deux albums avec le groupe du batteur Billy Hart et un duo avec Mark Turner, le nouvel album de l'ex-pianiste de "Bad Plus" est un "live'" enregistré au "Village Vanguard" à New York, avec un nouveau quartet. A la contrebasse, on retrouve Ben Street, musicien qu'on a déjà vu chez nous entre autres avec John Scofield et Joe Lovano, mais aussi familier de Kurt Rosenwinkel ou Jakob Bro. A la batterie, Eric McPherson, pilier du trio de Fred Hersch, c'est dire si on a affaire ici à un musicien à la sensibilité et à l'écoute optimale. L'intérêt majeur de cet enregistrement vient de la présence du trompettiste Tom Harrell qu'on retrouve ici dans une forme étincelante.
Onze thèmes parmi lesquels neuf standards parmi les plus connus du répertoire, mais toutes les versions sans exception mériteraient de figurer dans un best of du « real book ». « The Man I Love » ouvre le concert avec un Tom Harrell d'une sensibilité rare, qui fera immanquablement penser à Chet Baker. Le thème de bopper « Wee » est enlevé avec énergie et Ethan Iverson s'ingénie à ne pas tomber dans les accords classiques d'un thème rabâché dans les années 40-50. « Sentimental Journey » est bien loin du côté ringard de la mélodie d'origine, Tom Harrell sortant de son pavillon des citations à peine évoquées ou complètement exprimées, et si le « tic » de la citation est bien hérité de la tradition, Tom Harrell en use avec à-propos dans chaque morceau, donnant l'impression plus d'un clin d'œil qu'un véritable appel à une référence, du grand art.
Tout l'art d' Ethan Iverson est quant à lui de surprendre par la richesse et la subtilité de ses improvisations, par la finesse de son jeu et l'élégance de son accompagnement sur les solos du trompettiste. Le pianiste est ici bien ancré dans la tradition, deux compositions personnelles très bluesy et réellement envoûtantes le démontrent.
Voici donc un « vrai » disque de jazz où la lecture des standards – splendides « Out of Nowhere » et « Polka Dots and Moonbeans » -tout en restant très « lisible » offre une vraie nouvelle écoute de thèmes maintes fois joués.
© Jean-Pierre Goffin
En partenariat avec