Emmanuel Baily: Night Stork (ferdinand dupuis-panther)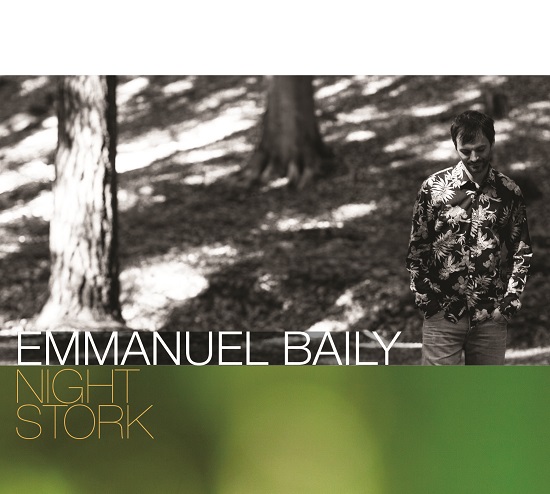 E
Igloo Rec., IGL265
Nein, ein Solokonzert des belgischen Gitarristen wurde nicht eingespielt. Baily hat sich mit nachstehend genannten Musikern zusammengetan, um nicht etwa "Night Hawk", den "Nachtschwärmer", zu besingen, sondern den "Nachtstorch": Khaled Aljaramani (ud, vocals), Lambert Colson (cornet), Jean-François Foliez (clarinet), Xavier Rogé (drums). Übrigens unter all den Storchenarten, die mir bekannt sind, gibt es keinen Nachtstorch, sehr wohl aber einen Schwarzstorch. Künstlerische Freiheit von Baily bei der Wahl des Albumtitels?
Mit einer Hommage an Johann Sebastian Bach beginnt Baily und er beschließt die musikalische Reise mit "Bron-Yr-Aur" aus der Feder von Jimmy Page. Nicht nur dieser Rocklegende fühlt sich Baily augenscheinlich verbunden, sondern auch Pat Metheny, ebenfalls Gitarrist, der "Letter from Home" komponiert hat. Diese hat Baily zu einem eigenen Arrangement inspiriert.
Das Stück aus den Goldberg-Variationen namens Aria trägt der Gitarrist streckenweise mit nicht ganz lupenreinem Spiel vor. Störend sind hier und da metallische Beiklänge zu vernehmen, die durch das Abziehen der Fingerkuppen von den Saiten zustande kommen. Gewöhnungsbedürftig ist auch der Klang der elektrischen Gitarre, ist man doch eher die Umsetzung klassischer Partituren mit akustischer Gitarre gewöhnt. Ohne Frage bei Bach lässt es sich träumen und meditieren. Doch fragt man sich, warum Baily gerade mit diesem lyrisch-verspielten Stück sein Album aufmacht. Zur Hälfte des Stücks setzen dann auch die Mitspieler von Baily mit ihren Parts ein, vor allem Lambert Colson (cornet) und Jean-François Foliez (clarinet), die samtene Klangfarben beisteuern. Sie verwandeln das Stück beinahe in eine Motette. Bach hatte die Variationen eigentlich für ein Cembalo komponiert. Doch dieses Klangbild "verwässert" Baily m. E. durch die Art seines Arrangements.
Nach dieser klassischen Einführung unternehmen wir anschließend mit Bailys Komposition "East Coast West Coast" eine Reise vom Orient in den Okzident und umgekehrt. Besonders durch den Einsatz von Ud, der klassischen arabischen Laute, und der Klangschlieren der Klarinette drängt sich der Eindruck auf, dass wir durch orientalische Basare wandeln oder den Markt von Fes besuchen. Die Medinas Nordafrikas sind sehr nahe, auch wenn die Strukturen europäischer Musik stets an unser Ohr dringen. Hier und da liegt der Fokus auf der Ud, die in Begleitung des Kornetts in Erscheinung tritt. Beschwingt ist die Musik, der wir unser Gehör schenken und die für gute Laune sorgt. Im letzten Teil der Komposition ist ein sehr ohrschmeichlerisches Duett von Ud und Gitarre zu hören, wobei die Ud die Melodielinie bestimmt.
Namensgebend für das Album ist die Komposition "Night Stork" von Baily: Zarte Gitarrentöne sind zu Beginn zu hören. Der Rest des Ensembles schweigt. Die Aufmerksamkeit gehört Baily allein. Auch beim "Nachtstorch" sind kleine technische Unsauberkeiten beim Gitarrenzupfen zu bemerken. Gut kann man sich allerdings zum angespielten Harmonieschema die Schwere und Stille der Nacht vorstellen.
Nach Afrika entführt uns das Quintett von Baily mit dem Titel "Sahel Al Mumtanah": Zu Beginn sind Baily und Khaled Aljaramani im Zwiegespräch vertieft. Khaled Aljaramani singt mit schöner Stimme ein arabisches Lied. Kommentierend erscheint die Gitarre in den Händen Bailys. Kornett und Klarinette greifen den Melodiefluss in ihrer ganz eigenen Weise auf. Im Hintergrund agiert Baily, ehe dann die Ud von Khaled Aljaramani für uns das Tor zur arabisch-nordafrikanischen Welt aufstößt. Eher in den Bereich des Jazz Rock werden wir mit "Bossa De l'Hiver" entführt, auch wenn es nicht heißt: The guitar gently sweeps! Zu verdanken ist die rockige Note nicht nur Baily, sondern auch Xavier Rogé an den Drums. Baily spielt dabei streckenweise eine sehr tieftönig gelaunte Gitarre, ehe er uns dann eine groovende Gitarre präsentiert. Irgendwie klingt's auch ein bisschen funky.
Zum Schluss noch zur Komposition von Jimmy Page, die in der Bearbeitung von Baily – dank sei dem streckenweisen Fingerpicking – sehr an einen instrumentalen Folksong erinnert. So schließt sich ein Kreislauf, der bei klassischer Musik begann, Weltmusik berührte und schließlich bei Folklore den Ausklang findet. Jazz oder nicht – das aber ist hier die grundsätzliche Frage, die bei diesem Debütalbum zu stellen ist.
Press release by Igloo Rec.
The first album from guitarist Emmanuel Baily is an exercise in musical lyricism and Baroque expression with the energy of contemporary jazz.
For several years already, he has been marrying these elements together naturally through his composing. By training, Emmanuel Baily is a classical musician that is active as an arranger, composer and performer with styles that are at times contemporary (Conference of the Birds, Orchestra ViVo!), jazz (Kind of Pink) or oriental (Alefba). At the crossroads of these influences, his début album offers a fascinating eclectic repertoire, where each track follows the other in perfect coherence.The music of "Night Stork" is inventive and melodic with personal compositions but also singular arrangements of Bach, Pat Metheny, Jimmy Page and a singular arrangement of "Feuilles mortes/Autumn Leaves".For this intensely personal approach, Baily called on exceptional musicians from very different musical horizons. The elegance of Lambert Colson's cornett (well known in France Baroque circles) is combined with the suave clarinet playing of Jean-François Foliez (Music 4 a While). The cutting sound of Khaled Aljaramani's oud (Interzone) acts almost as a mirror image of the guitar and brings an Oriental feel. And the riotous drumming of Xavier Rogé (Ibrahim Maalouf, Darwin Case…) throws an intense and creative light on the guitarist's compositions and arrangements.A poetic journey to the limits of baroque, jazz and traditional music.
text: © ferdinand dupuis-panther
Informationen
Label
Igloo Rec.
www.igloorecords.be
Musiker
Emmanuel Baily
https://www.facebook.com/emmanuel.baily
https://www.youtube.com/watch?v=29ADhHpTFvs
Khaled Aljaramani
https://www.youtube.com/watch?v=xtLnOMFC5qQ
Jean-François Foliez
http://www.jf-foliez.com/
Xavier Rogé
http://www.jazzinbelgium.com/person/xavier.roge
https://www.facebook.com/xavierrogemusic