Esbjörn Svensson Trio - e.s.t. live in Gothenburg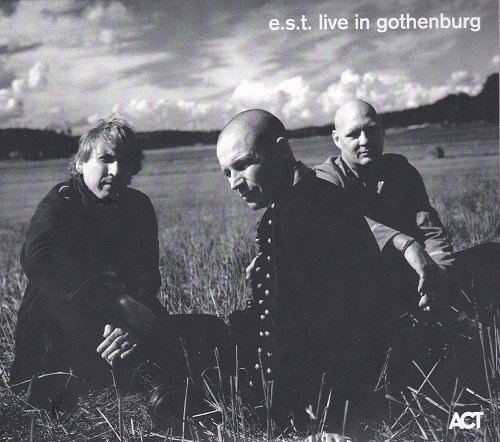 E
ACT Music/Newartsinternational
E.S.T. reste dans la mémoire des jazzfans comme un trio à marquer d'une pierre blanche, un trio unique qui a complètement fait avancer la formule piano-basse-batterie en continuant à suivre les codes de la tradition du jazz, lui ajoutant la dose parfaite d'électronique, de visuel scénique et d'influences européennes, classiques et rock.
Si on tient généralement Esbjörn Svensson, Dan Berglund et Magnus Öström comme une influence majeure pour des groupes comme « GoGo Penguins » ou « Mammal Hands » (qui, pour info, sera au Mithra Jazz à Liège en 2020), l'univers magique des trois Suédois n'a jamais été recréé avec autant d'invention, d'originalité et d'esprit jazz.
Le 10 octobre 2001, E.S.T., le trio du pianiste Esbjörn Svensson, se produit au Concert Hall de Gothenburg. Déjà reconnu à l'époque comme une des grandes influences du trio piano-basse-batterie du jazz, le groupe propose un répertoire tiré des albums « From Gagarin's Point of View » et « Good Morning Susie Soho », à l'exception d'un titre jamais enregistré, « Bowling ». De ce concert, Esbjörn Svensson – disparu tragiquement le 14 juin 2008 - disait qu'il était le meilleur de ceux que le groupe ait  jamais donné, et ce pourrait bien être le cas.
Le concert débute par « Dating », une version prometteuse quant à l'énergie et la chaleur qui domineront ce concert. Pas besoin de « warm up », le trio est déjà sur les rails, tempo medium, sonorité chaude de la basse acoustique de Dan Berglund,  drumming léger de Öström,  tout est en place.
Plus sombre, « Somewhere Else Before », s'ouvre sur la basse sourde et le jeu de balai du batteur avant l'entrée du piano qui poursuit l'ambiance ténébreuse du morceau. L'introduction de « The Rube Thing » est un modèle d'improvisation riche qui aboutit à un thème quasi bop où le court thème amené par le piano est suivi d'un solo de contrebasse au groove saisissant avant la reprise par Svensson sur un tempo d'enfer. 
Le solo à l'archet de Berglund à l'ambiance spatiale, introduit « From Gagarin's Point of View », délicat et léger comme l'air, tout en contraste avec « The Wraith » où le drumming nerveux et obsessionnel  offre  un terrain d'improvisation sans fin pour le pianiste. Dans l'intro de « Providence », avec ses airs de « All The Things You Are », on perçoit l'écoute de Bill Evans, impression confirmée lorsque Berglund et Öström entrent dans le jeu et offrent un quatre-quatre final de la meilleure veine.
Sur « Good Morning Susie Soho », Berglund emporte le morceau en utilisant des effets électro drôlement funky, c'est carrément jouissif et un des moments forts du concert. Bien que… tout dans cet album touche à la perfection : le thème blues « The Chapel », l'inédit « Bowling », le feu d'artifice final avec « Dodge The dodo », on est accroché de la première à la dernière note de ce concert magistral.
On a déjà considéré l'album « E.S.T live in London » sorti en 2018 pour commémorer les dix ans du décès de Svensson comme un album-phare du trio, ce « live in Gothenburg » poursuit la magie d'un groupe dont la musique n'a pas pris une ride depuis sa création, que dis-je ? A l'écoute de ceci, certains trios « jazz » auraient besoin d'un sérieux lifting à la fois au niveau de l'inspiration et du respect de la tradition.
© Jean-Pierre Goffin