Erik Truffaz Quartet – Lune Rouge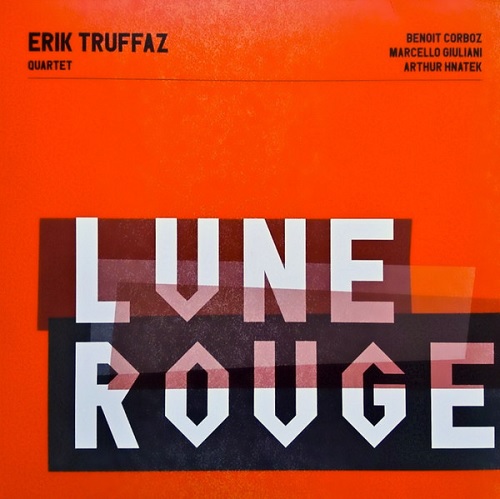 E
Warner
De korte intro van vijfenveertig seconden bevat al meteen het ganse vlechtwerk van de Truffaz-sound: disparate trompetklanken, spaarzame beats en een Indische touch. "Ik speel geen jazz," zei hij ooit. En inderdaad, zijn radius reikt veel verder en breder. 'Lune Rouge' is wederom een panoramische kijk op een eindeloze einder van muzikale mogelijkheden.
De kosmische sound blijft Truffaz zijn handelskenmerk. Op elke cd voegt hij daar andere invalshoeken en invloeden aan toe. Hij nodigt tevens regelmatig vocalisten uit. Deze keer zijn dat de polyvalente (performance)artieste Andrina Bollinger en José James. Met deze laatste verschuift het hele soundscapespectrum richting Los Angeles aan de hand van een lome soulgroove. In 'Et Two' duiken synthesizer-vlagen op à la Vangelis (periode 'Albedo 0.39') terwijl 'Tiger In The Train' opgebouwd is rond de juxtapositie van spacy effecten en industrial beats. Het hoogtepunt van de cd is ontegensprekelijk het bijna twaalf minutenlange titelnummer, een haast morbide soundtrack zoals John Carpenter die componeerde voor zijn films als 'Escape From New York' en 'Escape From L.A.'. 'Nostalgia' baadt dan weer in een haast sacrale sfeer. Het schimmige sluitstuk 'Houlgate' deint langzaam uit in een desolate stemming à la 'Blade Runner 2049'.
'Lune Rouge' is een heus groepswerk geworden. Bij elke compositie staan telkens de namen van alle muzikanten en tekstschrijvers vermeld. Het is een halve eeuw geleden dat Miles de (jazz)wereld op zijn kop zette met zijn iconoclastisch 'Bitches Brew'. Ongewild of niet, 'Lune Rouge' is enerzijds een passend eerbetoon maar is bovenal weer op en top Erik Truffaz. Een plaat als een eclips.
© Georges Tonla Briquet





Musici:
Arthur Hnatek: drums, electronics
Marcello Giuliani: bas
Benoît Corboz: Rhodes, synthesizer, piano
Erik Truffaz: trompet, bugel
+
José James: zang
Andrina Bollinger: zang

Live
07.02.2020, 20.00, Botanique (Brussel)