Erik Ineke - Dexternity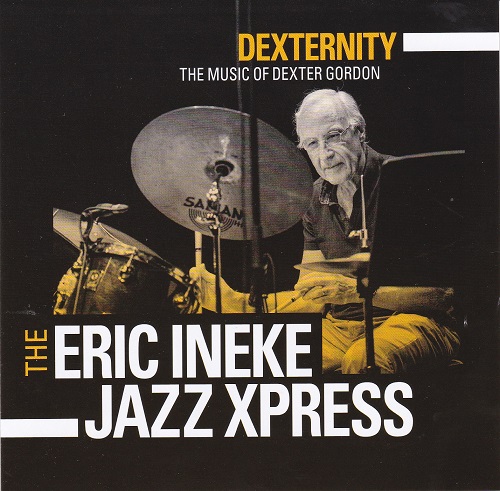 E
Daybreak/Challenge Records
On ne présente plus Erik Ineke, batteur batave qui depuis les années 70 poursuit une quête incessante du hard bop le plus pur.
Grand  admirateur des sax-ténors américains, il en a une belle brochette à son palmarès : Dexter Gordon, Johnny Griffin, Scott Hamilton, Dave Liebman, George Coleman, Al Cohn, John Ruocco… tous ont profité du drive impeccable du quasi septuagénaire batteur.  Depuis plus de dix ans, il mène son « Jazzxpress » avec une équipe de fidèles accompagnateurs comme le magnifique Rob Van Bavel au piano, Marius Beets  à la double basse, Sjoerd Dijkhuizen au sax-ténor  et Rik Mol à la trompette et au bugle, alors que de temps à autre quelques invités viennent s'ajouter au line-up. Si sur ses deux derniers albums du « Jazzxpress », on retrouvait des compositions de Johnny Griffin, son nouvel opus est entièrement consacré à Dexter Gordon sous le titre « Dexternity ».
On se souvient du projet « Ecaroh » de Richard Rousselet qui introduisait les morceaux d'Horace Silver par des paroles et musiques enregistrées du pianiste, et bien  Erik Ineke reprend le « gimmick » avec l'introduction de « Fried Bananas » par Dexter lui-même (  les intros de Dexter Gordon étaient souvent aussi truculentes que celles de Cannonball Adderley). On est ici résolument dans l'univers hard bop du saxophoniste de Philadelphie avec quelques uns de ses chevaux de bataille (« The Panther », « Cheese Cake », « Tivoli »…)  et comme seule composition qui ne soit pas de lui, « Body and Soul » que le saxophoniste jouait à quasi tous ses concerts. Erik Ineke avait 24 ans quand il joua pour la première fois aux côtés de Dexter Gordon ; 45 ans plus tard, il lui rend un hommage plein de fraîcheur et d'authenticité.
Jean-Pierre Goffin