Eric Ineke meets the Tenor Players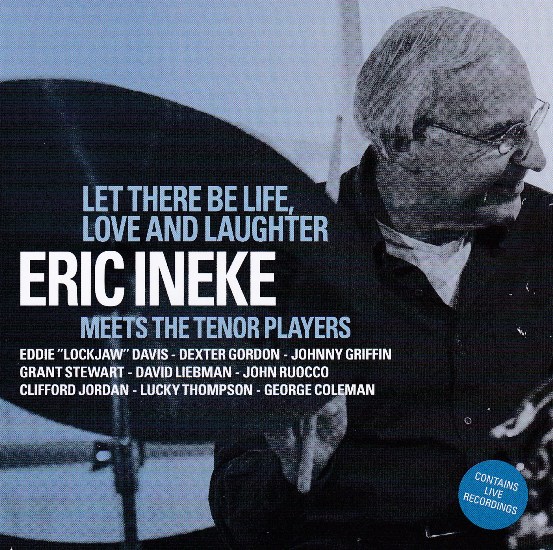 E
Challenge Records
On a encore eu ces dernières années de multiples témoignages de la vitalité d'un des batteurs-monuments de la scène hollandaise. A 80 ans ce premier avril, Eric Ineke reste un des plus actifs musiciens de la classe bop qu'il met toujours en avant dans ces productions avec ses albums JAZZXPRESS : « Blues, Ballads and Other Bright Moments » (2011), « Cruisin' » (2014) et « Dexternity » (2016) sont de remarquables hommages au hard bop et à ses pairs américians qu'il a croisés tout au long de sa carrière.
« Let There Be Life, Love And Laughter », ce nouvel album est historique dans le sens où  il témoigne de grands moments de jazz que nous devons au batteur batave. Huit titres « live » ou  enregistrements radio avec huit sax-ténors, neuf même puisque David Liebman et John Ruocco croisent le fer sur un thème repris à Clifford Jordan intitulé « Let There Be Life, Love and Laughter », tous enregistrés entre 1968 et 2014. Des thèmes issus du répertoire des standards comme « Body and Soul », «Walkin'», « Wee », « Lady Bird », « Bye, Bye Blackbird »… où on retrouve dans l'ordre des morceaux cités Eddie Lockjaw Davis, George Coleman, Johnny Griffin, Lucky Thompson, Grant Stewart.
Parmi  les saxophonistes, un seul reprend une de ses compositions, il s'agit de Clifford Jordan avec « Prayer To The People ». Bien sûr, on reconnait dès les premières notes un « tough tenor » comme Davis, le grain de Dexter Gordon (sur « Stablemates) de Benny Golson) ou la vivacité étourdissante de Griffin sur « Wee », mais on reste scotché sur la rythmique insufflée par Ineke qui propulse tout ce beau monde au sommet.
Un grand album hommage au batteur de toute une génération de boppers.
Et « Happy Birthday » Mister Ineke !
Jean-Pierre Goffin