Ensemble Collettivo Crisis – Live In Hamburg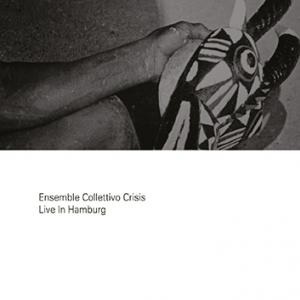 E
Setola Di Maiale
Nieuw (live) werk van het Italiaanse improvisatieviertal Ensemble Collettivo Crisis bij het Italiaanse label dat gekend staat voor dergelijke uitspattingen.
Acht jaar geleden richtte pianist Marco Bussi samen met gitarist Pietro Frigato het Ensemble Collettivo Crisis op met als doel vrije en extreme improvisatie te promoten. Kort samengevat: creëer een situatie, zoek een instant oplossing en doe er uw voordeel mee en dat van de luisteraar. Ze handelen niet zoals politiekers in een crisissituatie waar ook iedereen bevoegd is maar niemand zijn of haar verantwoordelijkheid opneemt. Bij Ensemble Collettivo Crisis vervult elk lid zijn rol naar behoren. Op 29 juni 2019 in de Resonanz Raum in Hamburg waren dat naast Bussi en Frigato tevens gitarist Daniel Savio en drummer Davide Rossato.
De eerste halve minuut kan je nog twijfelen of het concert al begonnen is of de muzikanten zich nog aan het nestelen zijn maar de voorstelling is wel degelijk meteen van start gegaan. Op piano, drums en gitaren worden de meest vreemdsoortige geluiden en effecten gecreëerd. Niet zomaar in het wilde weg of los van elkaar. Er is onmiskenbaar sprake van samenhang, alsof de heren uitgestippelde krijtlijnen volgen. Maar het blijft pure improvisatie natuurlijk. Snarengetokkel, schurende geluiden en geknetter vullen elkaar aan.
Geen titels, enkel nummers (van 1 tot 9) maar het resultaat is hetzelfde. Spanning wordt opgebouwd maar even abrupt afgebroken en toch ontstaat er een natuurlijke flow. Elke passage weliswaar gekenmerkt door aparte bijzonderheden. Zo klinkt '4' alsof Talking Heads Fred Frith uitnodigden als gast.
Ensemble Collettivo Crisis zet de poorten van de improvisatiewereld wijd open. Luister, geniet of huiver ('3'!) naar hartenlust.
© Georges Tonla Briquet



Musici:
Marco Bussi: (prepared) piano
Pietro Frigato: gitaar, effecten
Daniel Savio: gitaar, effecten, objecten, loops
Davide Rossato: drums, percussive, objecten

www.crisisensemble.com
www.setoladimaiale.net