Enrico Rava/Joe Lovano - Roma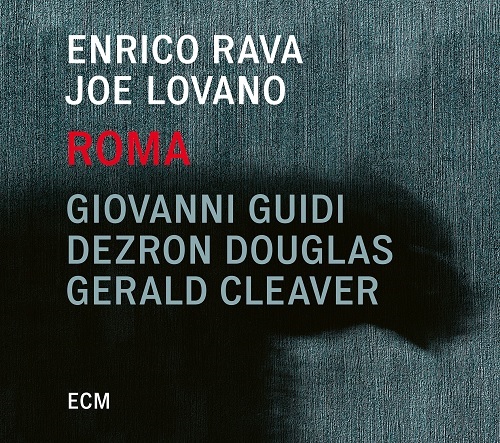 E
ECM Records
Enrico Rava vierde op 20 augustus 2019 zijn 80ste verjaardag op Jazz Middelheim, waar hij zoals op deze live-opname 'Roma' van november 2018 uitsluitend op bugel te beleven was.
Misschien past die klank nog beter bij zijn temperament en gevoeligheid en komt die bovendien nog het best uit bij de extraverte saxsound van Joe Lovano. Hoe ze elkaar vonden voor dit concert wordt nergens verklaard maar de Siciliaanse roots van Lovano (die wordt 67 in december) spelen mogelijk een rol.
Op zich staat deze confrontatie los van een nieuwe richting en/of nieuw werk.
Lovano koos 'Fort Worth' uit het album 'From The Soul' (1992), bewerkte 'Divine Timing' voor deze sessie en bracht nog 'Drum Song' uit het album 'Folk Art' (2009) in. Dat loopt uit in Coltrane's 'Spiritual'.
Rava is aan zet met 'Interiors' (van het album New York Days (2009) en 'Secrets' van het album 'The Words and the Days' (2007).
Live maken deze toppers er een swingend feestje van met ruimte voor de excellente pianist Giovanni Guidi en de degelijke ritmetandem: Dezron Douglas op bas en Gerard Cleaver op drums.
Een ontmoeting waar het spelplezier voor alles hoogtij viert!
© Bernard Lefèvre




Musici :
Enrico Rava (bugel)
Joe Lovano (tenorsaxofoon, tarogato)
Giovanni Guidi (piano)
Dezron Douglas (contrabas)
Gerard Cleaver (drums)