Enrico Pieranunzi & Bert Joris - Afterglow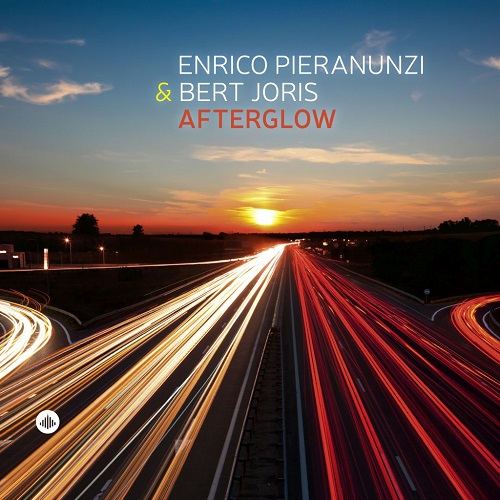 E
Challenge Records
De Italiaanse pianist/componist Enrico Pieranunzi (71) kwam voor het eerst in contact met trompettist en arrangeur Bert Joris bij de opnames van het album 'Don't Forget The Poet' (Challenge Jazz 1999). Hij was meteen onder de indruk van Bert Joris' 'way of playing, his tone, his musicality'. In 2003 nodigde Pieranunzi in zijn kwintet Bert Joris uit voor concerten rond zijn 'Fellinijazz'. In 2014 slaan ze de handen in elkaar om met het Brussels Jazz Orchestra 'The Music of Enrico Pieranunzi' vast te leggen. Bert Joris is solist en bewerkt voor het orkest de composities van Pieranunzi.
In 2018 zochten ze dan als duo de studio (MoterMusic – Mechelen) op om 'Afterglow' op te nemen. Dit album komt nu uit rond Bert Joris' verjaardag (hij wordt 64 op 18 januari).
Ze droomden al langer van een duo-date en toen ze die realiseerden was van corona nog geen sprake, helaas maakt die nu dat het live voorstellen voorlopig verdaagd is naar mei 2021 (Catharinakapel Harderwijk). Hoe dan ook, je kan alvast de cd aankopen en beluisteren.
Enrico Pieranunzi schreef zeven van de elf nummers, twee komen op naam van Bert en twee nummers ontstonden samen. Niet dat het veel uitmaakt, want het zijn twee klasbakken van componisten en bovendien is de chemie en synergie tussen beide topinstrumentalisten verbluffend. Mooi hoe ze introspectief ('Siren's Lounge','Millie') en verstild elkaar aanvullen ('Cradle Song For Mattia', 'How Could We Forget', 'The Real You') of ook filmisch elkaar aanvoelen ('Afterglow', 'Cradle Song For Mattia', 'Anne April Sang'), maar ook swingend uitdagen ('Five Plus Five' ,'What's What'), en ook weer loslaten en improviseren ('Freelude', 'Not Found'). Wat een muzikale weelde!
'Afterglow' bekoort om zijn uitgesproken muzikaliteit en een aanstekelijk goed gevoel wat net op het juiste moment lijkt open te bloeien als een nagloed van hoop voor betere tijden.
Meteen al bovenaan de lijst van top-cd's 2021. Hopelijk live als de zomerfestivals het mogelijk maken te (her)beleven…
© Bernard Lefèvre

Musici:
Enrico Pieranunzi (piano)
Bert Joris (trompet, bugel)