Enrico Pieranunzi & Bert Joris - Afterglow (cl)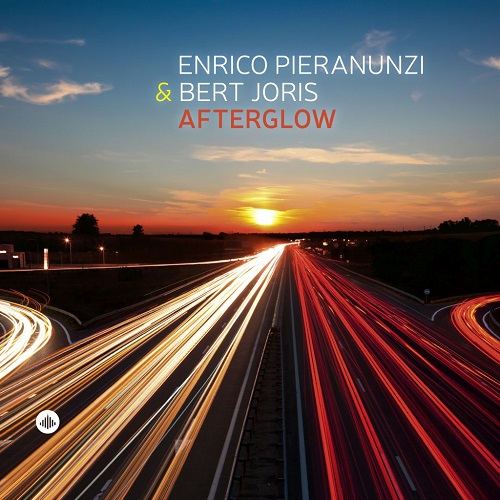 E
Challenge Records
Enrico Pieranunzi n'est pas le seul pianiste italien avec lequel Bert Joris ait enregistré. Pendant des années, il a formé un quartet avec Dado Moroni (albums Live en 2002, Magone en 2007, Only for the honest en 2017). Par ailleurs, Pieranunzi a gravé Live Conversations en 2006 avec le pianiste génois. 
Cet Afterglow n'est pas non plus le seul album sur lequel le trompettiste anversois a rencontré le pianiste romain. En 1999, déjà pour Challenge Records, ils gravaient Don't forget the poet, en quintet, avec le saxophoniste Stefano d'Anna, Hein Van De Geyn et Hans Van Osterhout.
"On s'est rencontré en Hollande, en 1999,  pour enregistrer un album sur le label de Hein Van De Geyn. A cette époque je ne connaissais pas encore Bert. Je l'ai découvert à cette occasion. C'était un beau projet autour de certaines de mes compositions. Par la suite, je suis resté en contact. Je l'ai appelé, en 2003, pour le projet Fellini, avec Paul Motian mais celui-ci devait passer des examens pour le coeur: il n'a pas pu venir et, finalement, c'est Kenny Wheeler qui était à la trompette. Bert possède un très belle sonorité et il est un excellent arrangeur" (Enrico Pieranunzi, interview "88 shades of blue"  jazzaround, 2015).
Par la suite, en 2015, ils se retrouveront pour l'album The Music of Enrico Pieranunzi du Brussels Jazz Orchestra. Enfin, à côté de ses rencontres avec Chet Baker, Art Farmer, Kenny Wheeler ou Fabrizio Bosso, Enrico avait déjà enregistré en duo piano-trompette, The Heart of the ballad, avec Chet, en 1988 et Nausicaa avec Enrico Rava, en 1994.
Pour cet Afterglow, sept compositions de Pieranunzi dont Five plus five gravé avec Marc Johnson et Joey Baron ou The real you de l'album Bill Evans Tribute; mais aussi deux de Bert Joris (Millie, How could we forget, gravé sur Smooth Shake avec le BJO) et deux thèmes co-écrits, des pièces plus libres, basées sur une interaction constante entre piano et trompette (Freelude et Not found).
Sans soutien d'une rythmique, un duo trompette-piano ne peut fonctionner qu'au travers d'une totale complicité, d'une réelle empathie au niveau du lyrisme mélodique (Siren's lounge, Afterglow), comme d'un sens inné du rythme (Five plus five). C'est le cas ici avec deux musiciens au sommet de leur art.
© Claude Loxhay
Une collaboration Jazzaround/Jazz'halo