Emmet Cohen - Uptown in Orbit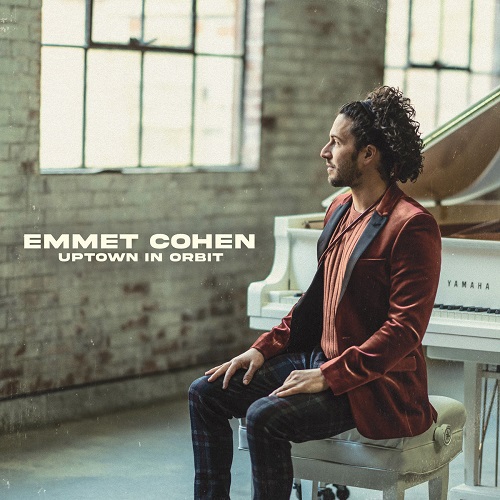 E
Mack Avenue
Peut-être certains d'entre vous ont-ils suivi les sessions du pianiste Emmet Cohen pendant le confinement.
Avec son contrebassiste Russell Hall et son batteur Kyle Poole, ils ont donné plus de cent concerts chaque lundi soir sur YouTube, avec un tel succès que la fine fleur du jazz newyorkais se retrouvait régulièrement dans l'appartement d'Emmet : Christian McBride, Randy Brecker, Joe Lovano, Wycliff Gordon, même les anciens comme Houston Person ou Sheila Jordan y ont formé les plus inattendus line-up du confinement. Ajoutez-y la crème de la jeune génération avec Tivon Pennicott, Alexa Tarantino, Benny Bennack III… et vous aurez déjà un aperçu des influences qui marquent ce nouvel album.
On débute avec Willie « The Lion » Smith et « Finger Buster », un classique du piano stride que Emmet Cohen remet au goût du jour avec le trio y ajoutant quelques effets nostalgiques plutôt surprenants. Le pianiste n'a pas besoin de reprises pour se plonger dans le corpus des anciens, écoutez « Spillin' The Tea » au stride pétillant sur un jeu de batterie plein d'originalité de Kyle Poole. 
Peut-on encore parler de grands classiques quand on entend les reprises de Cedar Walton – « Mosaic » et le travail de production fascinant de Kyle Pool – de Neil Hefti avec « Lil'Darling », « Venus de Milo » de Gerry Mulligan ou encore « Braggin' in Brass » de Duke Ellington, compositeur qui lui a inspiré le titre de l'album paraphrasant « Blues in Orbit », et le titre éponyme « Uptown in Orbit » à l'intro ellingtonienne puis au déroulement illuminé par les solos du trompettiste Sean Jones d'abord puis du bouillant Patrick Bartley au sax-alto.
Tout tourne et sonne rond dans cet album qui mixe avec intelligence tradition et jazz d'aujourd'hui. Une mise sur orbite qui vous propulse au septième ciel, un disque brillant, parmi les indispensables de l'année.

© Jean-Pierre Goffin
Une collaboration JazzMania / Jazz'halo