Emmet Cohen - Future Stride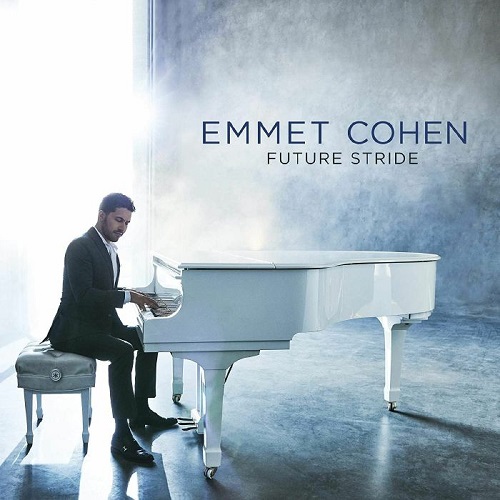 E
Mack Avenue Records
De jonge Amerikaanse pianist Emmet Cohen (30) behaalde de American Pianists Award (2019) en was ook finalist van de Thelonious Monk International Piano Competition (2011).
Hij dweept met jaren 20 jazz en voorbeelden als Fats Waller. De titel van het album verwijst naar 'stride' maar hij geeft er gelijk een inventieve draai aan naar de toekomst. Zoals hij het zelf stelt: "For me, stride piano… the music of Art Tatum and Earl 'Fatha' Hines and Willie 'The Lion' Smith has implications that can affect people today in a very deep manner." Hij put inspiratie uit deze invloeden om er een eigen creatief elan aan te geven.
'Symphonic Raps' mag dan herinneren aan Louis Armstrong die het opnam met het Carroll Dickerson Orchestra in de late jaren 20, Emmet Cohen zorgt voor een moderne twist en diept dat verder uit in zijn eigen 'Future Stride'.
Met Marquis Hill op trompet en Melissa Aldana op saxofoon volgen 'Reflections At Dusk' wat het broeierige jaren 50 gevoel van Miles oproept, en het swingende 'Toast To Lo', beide geschreven door Emmet Cohen. Hij draagt laatst genoemd nummer op aan drummer Lawrence 'Lo' Leathers (zie Cécile McLorin Salvant) die in juni 2019 tragisch om het leven kwam. 'Hij beïnvloedde alle leden van het kwintet, Russell en ik speelden voor het eerst met hem samen in Parijs', stelt Cohen.
Het trio is in topvorm met de Sammy Cahn/Jimmy Van Heusen ballad 'Second Time Around' en gaat sprankelend over in 'Dardanella' (openbaar domein, 1919) wat drijft op het aanstekelijke ritme dat we kennen van Ahmad Jamal.
Emmet Cohen schreef 'You Already Know' kort na zijn verhuis naar New York City. Het hectische stadsleven krijgt een swingende invulling van het kwintet, waarin opnieuw Aldana en Hill schitteren naast de hyper gedreven Cohen.
Contrabassist Russell Hall laat zich opmerken in Duke Ellington's 'Pitter Panther Patter' wat natuurlijk naar het voorbeeld van Ellingtons bassist Jimmy Blanton als showcase bekend is.
Na de Rodgers and Hart standard 'My Heart Stood Still' eindigt het album met Cohens fijngevoelige 'Little Angel' waarin een indringend solerende Marquis Hill.
Emmet Cohen eigent zich 'het zingen van de tijd' toe, een reïncarnatie van old time jazz tot hedendaagse moderne jazz met hiphopachtige dynamiek, een beklijvend album!
© Bernard Lefèvre




Musici :
Emmet Cohen (piano)
Russell Hall (contrabas)
Kyle Poole (drums)
+ gasten:
Melissa Aldana (tenorsaxofoon)
Marquis Hill (trumpet)