Emilia Vancini & Augusto Pirodda – And If You Fall, You Fall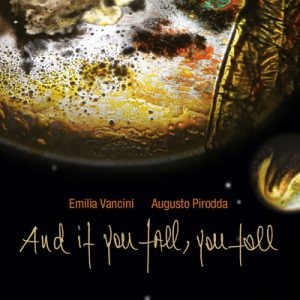 E
Espira
The Real Book blijft inspireren. Op hun beurt interpreteren vocaliste Emilia Vancini en pianist Augusto Pirodda tien klassiekers op zuiver akoestische wijze. Een ontluisterende kijk op overbekende melodieën.
Emilia Vancini en Augusto Pirodda werken al meer dan een decennium samen. Recent hielden ze er een extra muzikale knipperlichtrelatie van zeven maanden op na met als concreet resultaat 'And If You Fall, You Fall'. Onder het motto "Hoe vrij kan je omgaan met standards?" doken ze gedurende die periode enkele malen de studio in zonder enige voorbereiding of voorafgaande afspraken. Elke barrière was uit den boze, net als latere editing. Puur tot het uiterste.
Het hele proces steunt op vocalizing en het ter plekke creëren van sonoriteiten. Hieraan koppelde het duo de vrijheid om een woord of zinswending uit de originele tekst aan te passen zodat ze telkens nog een stap verder konden zetten. Inclusief een opmerkelijke bewerking van Monk zijn 'Ruby, My Dear'.
Een gedurfde zet zonder een enkel swingmoment volgens de regels, met als begin- en eindpunt een versie van 'Some Other Time'. Daartussen een wereld van stemverbuigingen en sobere snarenspielereien. Extreem beheerst en ingehouden in sepia kleuren, uitgewerkt volgens een heel eigen ritueel. Mixing en mastering was in de handen van niemand minder dan Manolo Cabras. Ergens tussen Anna Homler, Jeanne Lee en Norma Winstone met een duidelijke knipoog naar de duetten van Ran Blake en Christine Correa. Als kamikaze koorddansers bewegen ze zich tussen 'You're My Everything' en 'But Not For Me'. Aan u de keuze.
© Georges Tonla Briquet

Musici :
Emilia Vancini: zang
Augusto Pirodda: piano

www.emiliavancini.com
www.augustopirodda.com