EHA - Paris, Rio, New York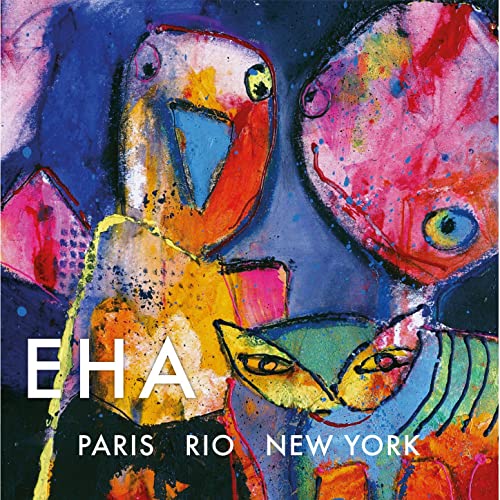 E
Self-produced
EHA is the fusion project of guitarist Philippe Coignet, featuring 11 of his compositions. It begins in exciting style with a fanfare version of his tune "1984" featuring a brass section underpinned by Lionel Segui's tuba, leading into some edgy but creative solos. Variations on the same tune feature on several other tracks, giving the set a unity despite many changes in line up.
The core quintet is made up of Coignet, keyboard player Leandro Aconcha who also helped with the arrangements, bassist Michel Alibo, drummer Damien Schmitt and Cacua de Queiroz on saxes and flute. Various tracks also feature a brass section, 3 percussionists and solo work from guitarist Mike Stern and steel pan player Andy Narrell.
The album title apparently refers to musical "feels" from the three great cities and also to the fact that musicians featured were from three different continents, some recorded remotely. All the music has an urban energy and it's great driving music, beautifully played and produced. My only reservation is that some of the sounds and riffing are a little like generic fusion, although some listeners may love this! Coignet's playing often reminds me of Alan Holdsworth, both in tone and melodic structure, whilst the crisp compositions and grooves have some of that Joe Zawinul magic about them.
With almost 60 minutes of multi-layered music there is a lot to take in. "Celeste A" and "Dudatjo", the two tracks featuring steel pans alongside Coignet's acoustic and electric guitars are a highlight with striking solos from Andy Narrell. I would have liked to hear more solos from Leandro Aconcha; his organ on "Toronto layover" and piano on "Queen of my nights" are inventive. His synth solo and high-energy brass arrangement on "Plain dance" are also worth hearing, alongside some fine baritone sax work from Cacua de Queiroz.
Congratulations to Philippe Coignet and his band.
© Stephen Godsall

Buy EHA - Paris Rio New York at: