Edgar Van Asselt – The Gentle Insult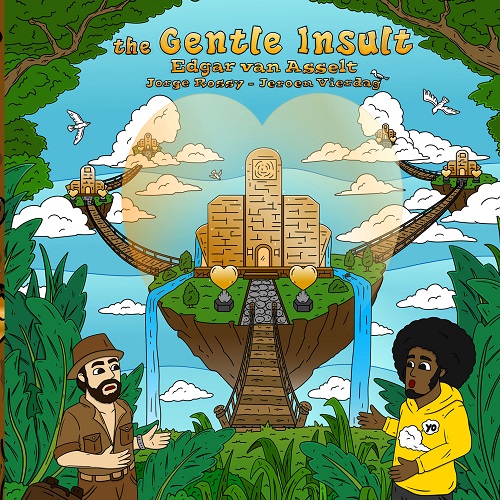 E
Bandcamp
Superb playing abounds on this album by three musicians in the vanguard of 2023 European jazz. There's plenty of tonal variety too; Edgar van Asselt plays acoustic and Fender Rhodes pianos plus a range of VST software synths. Jorge Rossy (Joe Lovano, Kurt Rosenwinkel) covers drums and vibraphone whilst Jeroen Vierdag (Caro Emerald) on double bass can be both lyrical and driving. This is Edgar's project with all compositions by him.


I began listening to the album and found myself reminded of Chick Corea's late 70s electric bands. Checking the sleeve notes I discovered that the album was partly inspired by Edgar's participation in the Chick Corea Academy, online workshops during the lockdowns. Participants had the chance to meet Chick online and Edgar was impressed by his humanity and willingness to share. The Corea legacy is so deep and wide that it's easy to imagine many musicians building projects around his work, as they have around Duke and Monk.
That said, Edgar has his own voice and compositional ideas, ranging from poignant harmonic shifts and "heart on sleeve" melodies to a quirky sense of humour which embraces the absurdity of modern life. The track titles reflect this; for instance he explains "What fuelled the idea to 'Bill at the Gates' was the thought: 'how would it actually sound if Bill were at the Gates? Of course, no mundane doorbell sound would do justice to the arrival of the media hyped billionaire, it had to be a sound that conveyed grandeur and the importance." The piece nicely combines the grandeur of a slow waltz with bluesy decadence.
Album opener "Captain Cartel" begins with a sweeping synth theme then a ragtime piano interlude in 5/4 time and an inspired bass solo. "Madness of the clouds" is a poignant slow waltz with compelling harmonic shifts, showing Edgar's deft touch on acoustic piano. He also produced the recording which sounds great, with a spacious room sound and plenty of detail, including subtle mechanical noises on both piano and Fender Rhodes.
This is music which plays with ideas and a sense of the absurd and the striking artwork matches perfectly. Title track "The gentle insult" explores the Indian proverb "A wise man builds a temple out of the bricks his enemies throw at him." The melody is whistled, which certainly helps make it "whistleable".  My one criticism is that the synth sounds don't quite have the energy which Chick Corea achieved by combining synth, flute and horns - these compositions deserve that clarity of voicing.
Album highlights include "Incluition" - another great title deriving from Edgar's community arts work - a very natural 5/4 groove with space for hooks from piano and bass in unison. "Smoke and mirrors" has superb vibes work from Rossy, giving an extra layer of counterpoint which recalls Gary Burton's work with Corea. "I love it when a plan comes together" has a another strong theme with a Stevie Wonder flavour and intricate cross rhythms.
Do take a listen to this varied and ambitious album, full of interesting compositions and inspired playing. It's good to see it accessible on Bandcamp so you can stream all tracks and buy a copy to support these fine musicians.

© Stephen Godsall