Duo Libertaire - Hint of Monk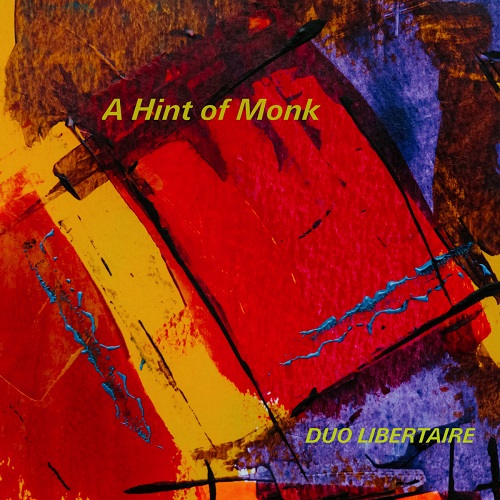 D
Digital album
French drummer Thierry Wazinlak and electric guitarist Pascal Bréchet have a persuasive presence on Bandcamp; much of their music uses heavily effected sounds with titles like "Hitting, rubbing, pinching" and tone colours to match.
"Hint of Monk" is their most "straight ahead" jazz album, which is not to say it's remotely straight ahead. The drums and guitar are beautifully recorded without electronic effects. All but one of the compositions are by Thelonious Monk but don't expect obvious interpretations of his tunes; these performances use the same notes but never in the same order. Given that Monk's music is itself highly chromatic there are many notes to choose from!
The album does often capture the elusive spirit of Thelonious; "Hackensack" begins with drums playing a polyrhythmic swing pattern reminiscent of Art Blakey then the guitar joins with a torrent of angular lines and diminished chords. "Evidence" is all delicate brushwork and exploratory harmony whilst "Think of one" creates exciting syncopation by guitar and drums trading contrasting swing phrases.
"Ugly beauty" builds a texture of sweeping brushes and tense chords which are way beyond time and changes. "Trinkle tinkle" is equally free form, featuring some delightful tightening and loosening sounds on the drum heads complemented by scuttling note clusters on guitar.
My personal favourite is the brilliant "Japanese Folk Song" which builds mesmerising sustained textures from guitar harmonics then animates them by detuning strings. The drums are played with soft beaters combined with buzzing rivet cymbals, an exceptional depth of acoustic drumkit voices. The only non-Monk composition is "Three or four shades of Monk's Blues" by Bréchet and Wazinlak which contains many ingenious references to Monk's harmony, rhythm and phrase structures.
I'd thoroughly recommend taking a listen to Duo Libertaire at https://duolibertaire.bandcamp.com/
© Stephen Godsall