Dizzy Gillespie live at Singer Concert Hall 1973 - The Lost Recordings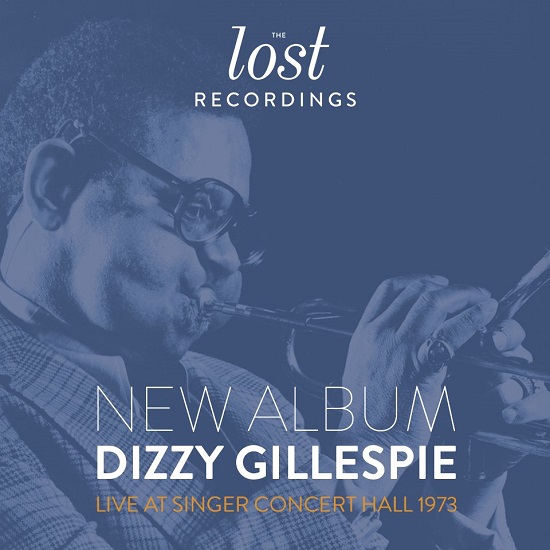 D
Fondamenta/Devialet
Il y avait la restauration de tableaux, de sculptures, de monuments, de cathédrales… En jazz, jusqu'à ce jour, on rééditait les anciens enregistrements en tentant d'améliorer le son d'origine.
On pouvait difficilement parler de « restauration » tant les défauts restaient perceptibles. Avec cette série initiée par la société française Devialet, on touche réellement à l'art de la resonorisation de documents oubliés ou perdus de concerts exceptionnels. Après Ella Fitzgerald, Dave Brubeck, Oscar Peterson, Bill Evans, Thelonious Monk et Sarah Vaughan, voici le septième volume de cette exceptionnelle série  consacré en Dizzy Gillespie.
Nous sommes en 1973. A cette époque, Dizzy Gillespie tourne avec les « Giants of Jazz », une formation aux accents revivalistes jouant le bebop comme à la belle époque, une formation pour laquelle on a ressorti de son isolement Thelonious Monk, et fait appel à Sonny Stitt, Kai Winding, Al McKibbon et Kenny Clarke, des musiciens de légende  qui ont écumé les grandes salles européennes y compris les Beaux-Arts bruxellois à plusieurs reprises.
A côté de ce business, Dizzy Gillespie tourne avec son groupe que l'on découvre ici lors d'un magnifique concert à Laren aux Pays-Bas le 25 août 1973. Avec sa verve habituelle, Dizzy présente ses musiciens avec humour leur attribuant des lieux de naissance farfelus : Mickey Roker, Dublin et non Miami, Mike Longo, du Congo au lieu de Cincinnati, le guitariste Al Gafa du Nigeria plutôt que de New York City, tout comme Earl que Dizzy fait naître à Shangaï ! Le ton est donné : on va jouer en toute décontraction en mettant en évidence les différentes périodes traversées par le trompettiste : « Sunshine » du pianiste Mike Longo part dans le relâchement complet d'un thème latin où Mickey Roker tient la baraque avec ce qui n'est qu'un apparent abandon, dix-neuf minutes de plaisir ininterrompu.
Suit un hommage à Martin Luther King composé par Gillespie, « Brother K », puis une deuxième composition du pianiste où le guitariste Al Gafa est mis en évidence sur un air de flamenco qui sert plus loin de « jouerie » à Gillespie. Deux blues et l'afro-cubain « Manteca » clôture le concert de façon plus traditionnelle, mais Dizzy parvient une nouvelle fois à surprendre en invitant le tout jeune Jon Faddis – vingt ans à peine et disciple talentueux de Gillespie -  sur le très chaud « Manteca » et « The Blues », une invitation qui permet à Faddis de démontrer son jeune art et à Gillespie de chanter comme en ses meilleurs jours. Réjouissant!
Musiciens:
Earl May, contrebasse
Mickey Roker, baterie
Alexander Gafa, guitare
Michael Longo, piano
Dizzy Gillespie et Jon Faddis, trumpettes
Dizzy Gillespie, chant
© Jean-Pierre Goffin