Dijf Sanders – Java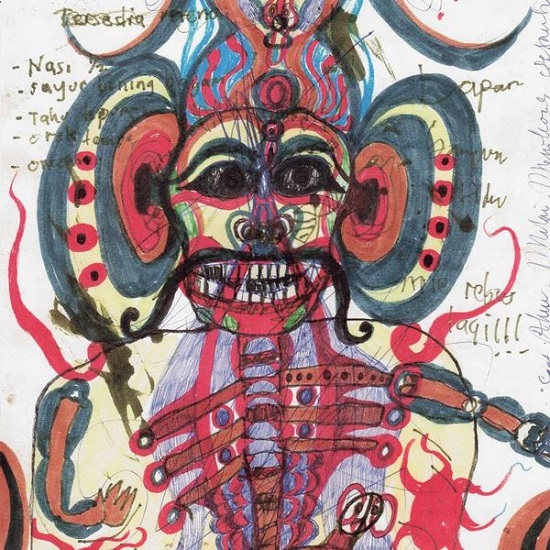 D
W.E.R.F.
In het kader van Europalia Indonesia kreeg Dijf Sanders carte blanche voor een eigen project. Hij trok naar ginder, maakte er veldopnamen en ging daarna aan de slag met al dit materiaal. 'Java' is hiervan het uiteindelijke resultaat.
Wie reeds zelf op reis ging naar Indonesië of enigszins vertrouwd is met de tradities van dat land, weet dat het een van de meest verfijnde culturen heeft. Of het nu om dans, kledij, zang, muziek of zelfs het culinaire gaat, alles is tot in de kleinste details verzorgd. Het geheel van smaken, geuren, kleuren en klanken heeft een haast hypnotiserende invloed. Geen evidente opdracht dus om dit alles te vertalen naar een andere (westerse) context.
Dijf Sanders deed het op zijn manier, wel helemaal volgens de principes van muzieketnoloog Alan Lomax. Met moderne opnameapparatuur onder de arm trok hij van her naar der om de lokale muziektradities en achtergrondgeluiden in te blikken. Daarbij had hij het gezelschap van de Amerikaanse etnograaf Palmer Keen. Nadien begon het echte puzzelwerk thuis in de studio. Om een eigen coderingstaal uit te werken, deed hij beroep op Nathan Daems, Filip Vandebril en Simon Segers.
Zo groeide 'Java' uit tot een vrije interpretatie van impressies. Originele opnamen, zowel gezongen als instrumentaal, werden bewerkt en "gemoderniseerd" door ze in een meer melodieuze vorm te gieten. De toevoeging van een orgeltje leidt tot bijna vrolijk dansbare patronen nauw verwant met de sound van Black Flower. Niet verwonderlijk, gezien de drie gastmuzikanten uit dat nest komen.
De licht percussieve trance effecten worden meestal bewaard, zij het gehuld in een wazig elektronisch omhulsel. In 'Banyumas' zijn het warme saxofoonklanken die Oost en West verbinden op een repetitief patroon dat wel ontleend lijkt aan 'Why Can't We Live Together' van Timmy Thomas.
Dijf Sanders bracht deze huzarenopdracht op heel persoonlijke wijze tot een goed einde. Enkel spijtig dat de rijke gamelantraditie niet echt aan bod komt terwijl deze van grote invloed was op Westerse componisten als Claude Debussy, Benjamin Britten en Philip Glass.



Geïntrigeerd en benieuwd naar meer Indonesische muziekjes? Dan raden we volgende verzamel-cd's aan, verschenen via Smithsonian Folkways: 'Music From The Southeast: Sumbawa, Sumba, Timor', 'Kalimantan: Dayak Ritual And Festival Music' en zeker 'Indonesian Guitars'. Ook 'Flutes & Gamelan Music Of West Java' (Topic) blijft een aanrader.
© Georges Tonla Briquet
Europalia Indonesia Arts Festival loopt nog tot 21.01 op diverse plaatsen in België: www.europalia.eu