Diego Imbert / Alain Jean-Marie - Interplay: The Music of Bill Evans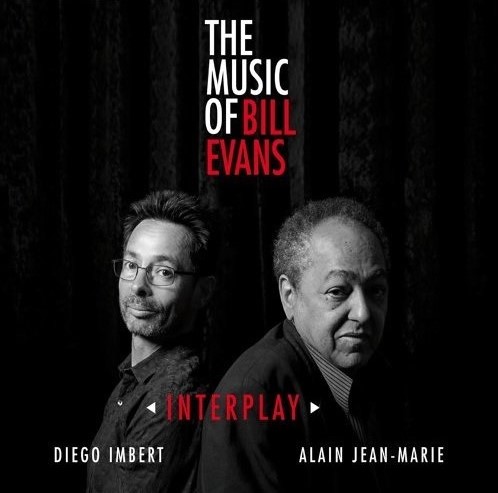 D
Trebim Music / L'Autre Distribution
Le contrebassiste Diego Imbert a côtoyé Didier Lockwood comme Biréli Lagrène avec lequel il s'est plongé dans le jazz manouche, il a enregistré 7000 Miles avec David Linx et formé un quartet avec Alex Tassel et David El Malek. Il a aussi participé à un trio avec Enrico Pieranunzi et André Ceccarelli, compagnons avec lesquels il a aussi enregistré un Tribute to Charlie Haden.
Voici maintenant un hommage à la musique de Bill Evans, et principalement au duo que le pianiste a formé avec le contrebassiste Eddie Gomez, durant les années '70 pour les albums Intuition et Montreux III. C'est que Imbert avait suivi un stage avec Gomez dans les années ' 90.
Encore fallait-il choisir un pianiste. Enrico Pieranunzi pouvait parfaitement s'inscrire dans ce projet: il a lui-même rendu hommage à Bill Evans dans une formule piano-trio + horns (Evans Remembered).
Mais son choix s'est finalement porté sur Alain Jean-Marie, son aîné de 20 ans. Pianiste autodidacte d'origine guadeloupéenne, Alain Jean-Marie a enregistré plusieurs Biguine Reflections en hommage à ses origines, il a formé le Tropical Jazz Trio mais il a aussi côtoyé les plus grands solistes américains.
Jouer du Bill Evans était un autre défi. "L'insistance amicale de Diego m'a convaincu d'accepter son invitation à dialoguer avec lui en m'encourageant à ne surtout pas chercher à jouer comme Bill, ce que je n'aurais jamais, su faire, mais à revisiter en sa compagnie son répertoire à ma manière, avec mes harmonies, mes voicings." Pari Gagné.
Un album de 15 plages. Des titres très connus de Bill Evans, comme Waltz for Debbie, We will meet again, Peri's scope, Turn out the stars, Time remembered, Interplay (titre d'un album gravé en quintet avec Jim Hall et Freddie Hubbard), Show Type Tune de l'album Intuition ou Blue in green joué avec Miles. Mais aussi quelques titres appréciés par Evans comme Alfie de Burt Bacharah, Quiet now de Denny Zeitlin, Nardis de Miles ou Gloria's step de Scott La Faro. Une succession de belles mélodies au tempo empreint de sérénité (Alfie, Quiet now, Time remembered, Laurie) mais aussi des rythmes plus nerveux (Peri's scope, Nardis) et aussi un très beau solo absolu de contrebasse pour clore l'album avec We will meet again.
Deux personnalités complémentaires au service d'une musique intemporelle.
© Claude Loxhay