Diederik Wissels & Andreas Polyzogopoulos - Before you go (cl)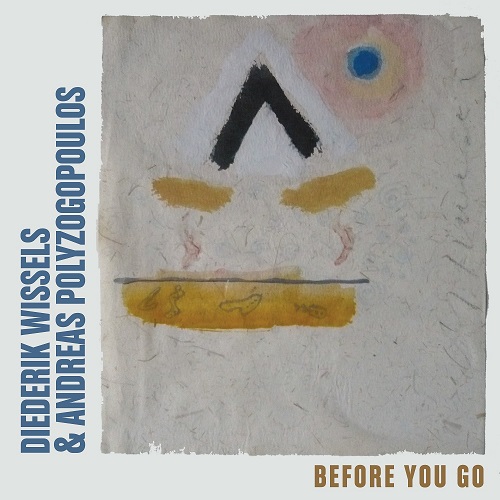 D
September
Né à Rotterdam en 1960, Diederik Wissels est arrivé, dès 1968, à Bruxelles où il est devenu professeur du Conservatoire. Après des études à Berklee, il faut dire qu'il avait croisé Chet, Larry Schneider ou Kenny Wheeler. Sa rencontre avec David Linx débouchera sur une discographie impressionnante, qui lui permit notamment de croiser Paolo Fresu (albums Heartland et The Whistleblowers). Avec David, il voit aussi s'ouvrir une carrière française: l'album "Bandarkha" sera produit par Label Bleu.
Il a aussi enregistré des albums solo comme "Together", et des albums avec chanteuse, comme "Together" en compagnie d'Ana Rocha, pour lequel Andreas Polyzogopoulos est invité.
Né à Samiko, en Grèce, le trompettiste Andreas Polyzogopoulos poursuit ses études au Conservatoire d'Amsterdam puis de Bruxelles, et reçoit des leçons de Markus Stockhausen et Paolo Fresu. Il forme très vite le Poly Quartet qui gagne le Motives for Jazz en 2008 et enregistre "Perfumed dreams". Il a fait aussi partie de l'European Youth Orchestra et a gravé "Heart of sun", hommage à la musique de Pink Floyd.
Au répertoire de "Before you go", 14 plages: une composition de Polyzogopoulos ("Burnt pine tree"), 13 titres de Diederik, dont trois variations de "Before you go", thème qui ouvre et ferme l'album; des titres qui peuvent se lire comme une suite: "First Perspective (Past)", "Second perspective (Present)", "Third Perspective (Future)". Des plages plus ou moins courtes de 1'37 à 5 minutes ("Elsewhere", "Remember", "Masks").
Un piano d'un lyrisme mélodique assumé, très paisible. Une trompette en volutes aériennes, d'une sonorité feutrée, sans sourdine ou avec ("Pieta", "Burnt pine tree") mais parfois plus éclatante ("Isla de lobos"). Une parfaite complicité avec l'univers de prime abord introverti de Diederik qui multiplie les intros en solo ("First Perspective"). Avec  quelques effets électroniques ("Before you go"), avec parfois une sonorité de synthé ("Masks"). Des effets en écho ("Remember") qui évoque l'univers de Fresu.
Une parfaite complicité empathique dans un univers d'une grande sérénité.
© Claude Loxhay