David Venitucci - En équilibre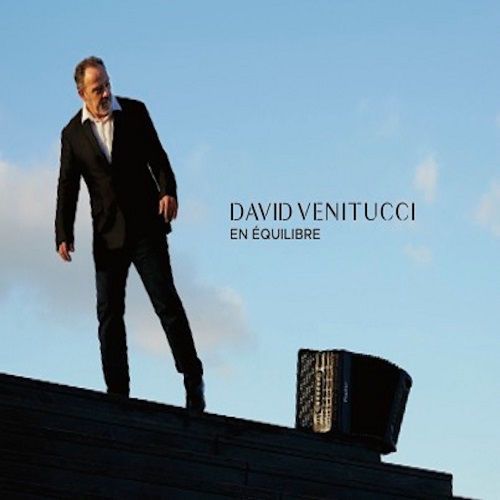 D
EPM Musique
Je kunt allerlei verklaringen bedenken voor de titel die David Venitucci aan zijn album "En équilibre" gaf.
Gaat het over de emoties die een koorddanser ervaart ? Moeten we bij hem een verlangen naar co-existentie, hoe fragiel ook, vaststellen tussen de muziekstijlen die hij onder zijn vingers zou verenigen om een universele muziek te creëren ? Of wil de accordeonist, zich bewust van de risico's van het solo-avontuur - dat hij voor de tweede keer op plaat [1] probeert - laten zien dat hij buiten zijn virtuositeit ook zijn intimiteit durft te tonen en eveneens zijn perceptie van de wereld met ons wil delen ?
Dit zowel discreet als elegant album, is ongetwijfeld een beetje van dat alles. In negen fasen (zeven originele composities en twee covers, waaronder "La Bohème" van Charles Aznavour), kunnen we luisteren hoe de musicus die naast Renaud Garcia-Fons, Denis Leloup, Christophe Marguet of Toufik Farroukh - een lijst die verre van volledig is – of aan het hoofd van zijn eigen trio schitterde, hier in vrij korte tijd - amper meer dan een half uur - diverse landschappen tekent. Deze zijn afwisselend beschouwend ("Au-delà des nuages", "Edelweiss"), teder ("La Bohème..."), nostalgisch ("Ivresse nocturne", "Alfonsina y el Mar"), vreugdevol dansend ("Upa Upa", "Hop!"), doordrenkt met een mysterie dat snel verdwijnt onder de effecten van een troostende melodie ("Abyssal") of gewoonweg verliefdheid ( "À toi").
De accordeon wordt een zanger en spreekt tot het hart... Heel snel sluiten we onze ogen, terwijl we zachtjes verder wandelen met een constant gevoel van sereniteit. "En équilibre" is een oase van rust, die zich ergens tussen jazz, impressionistische muziek en denkbeeldige folklore situeert, ergens anders, aan de kant van de ziel, en dit is ongetwijfeld een voorrecht in onze onzekere tijden. Die van een ontwakende droom die we nog net konden aanraken.
© Denis Desassis, 15 mei 2022 (vrije vertaling : Jos Demol)
Een samenweking Citizen Jazz en Jazz'halo




[1] David bracht in 2003 het album "Cascade" uit bij het label Chant du Monde en 2003.