David Murray : Brave New World Trio - Seriana Promethea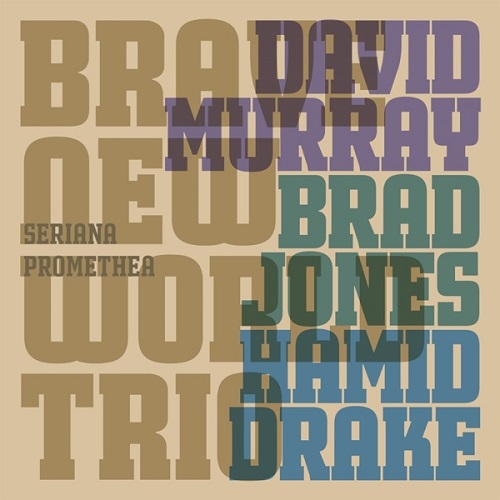 D
Intakt
On avait déjà entendu David Murray en solo (album 'Solo Live' en 1997, concert à la galerie Arthome et interview pour le magazine Jazzaround), en duo avec Mal Waldron ou Dave Burrell, en quartet avec McCoy Tyner ou Bobby Few, en quintet, en octet, à la tête de son Big Band.
Le voici  en novembre 2020, en trio, la formule qui, selon lui, lui permet d'exprimer au mieux sa personnalité, l'éventail de ses potentialités.
En 2020, il se retrouve en Italie, son agent milanaise, Ludmilla Faccenda lui propose de contacter un batteur installé alors à Milan, Hamid Drake qui a croisé la crème des saxophonistes américains, de Pharoah Sanders à Charlie Gayle, Joe McPhee ou Assif Tsahar et que Murray a croisé en concert.
A la contrebasse, elle propose Brad Jones installé à Venise et qui a croisé Dave Liebman.
Le Brave New World Trio est fondé en novembre 2020, après des mois de confinement, et se produit à de multiples reprises (vidéo) avant d'entrer en studio à Zurich pour le label Intakt. Au répertoire, huit compositions originales de Murray qui balaient tout son univers, ses différentes passions.
L'album s'ouvre sur 'Seriana Promethea', la seule pièce jouée à la clarinette basse, l'occasion d'exprimer son attachements aux racines, en parfaite communion avec batterie et contrebasse.  'Suit Necktar', au ténor, une composition déjà jouée avec son octet. Sa ballade 'Metouka Shell' commence par une intro de contrebasse jouée à l'archet puis en pizzicato et débouche sur la sonorité chaude du ténor qu'on retrouve sur 'Rainbow for Julia', un thème dédié à sa belle-fille. 'Switching' in the kitchen' adopte un rythme aux accents latins, joué sur tempo vif. 'Anita and Annita', sorte de rumba, repose sur de multiples changements de rythme.  'If you want to stay', la contrebasse introduit le ténor qui opte pour un registre aigu. 'Am gone get some' marque un retour aux racines, avec un jeu nerveux galvanisé par le jeu dense de la batterie.
On retrouve David Murray au mieux de sa forme.

© Claude Loxhay
Une collaboration JazzMania / Jazz'halo