David Linx - Be My Guest – The Duos Project (bl)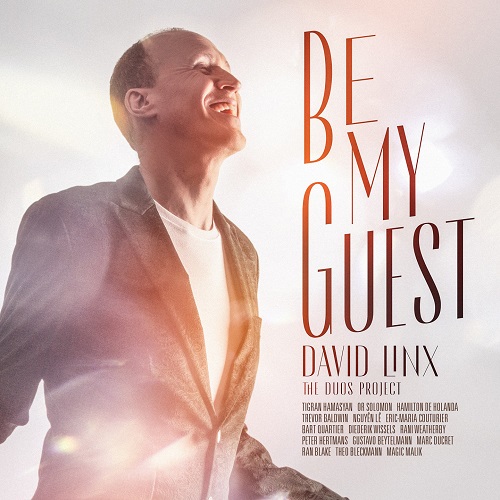 D
Cristal Records
David Linx maakt in dit duo project een soort balans op van zijn artistiek streven en ambities vanuit het muzikale milieu waarin hij opgroeide. Voor alles was er de invloed van zijn vader, Elias Gistelinck, musicus/componist, radioproducent en stichter van Jazz Middelheim, die zich ophield in de kringen van artiesten zoals Jeanne Lee en Ran Blake, Astor Piazzolla, Léo Ferré en ook Sonny Rollins, want die vond dat los van genre of stijl het alleen maar gaat om goede en slechte muziek. David volgt die weg om zich niet te binden aan welke stijl ook en gewoon zijn eigen stijl van zingen of spelen te ontwikkelen met een energie en levenslust die uitstijgt boven alle techniciteit. En uiteindelijk een kwestie is van ritme.


Om dit eigenzinnige traject te onderlijnen nodigt David Linx in dit album gelijkgestemde en hoogste gewaardeerde artiesten uit die zijn muzikale visie delen.
Met 'Letter To Trevor' brengt Linx met gospel en spoken words van Trevor, neef van James Baldwin, hun connectie tot leven en de herinnering aan Saint-Paul-de-Vence, waar James Baldwin verbleef en overleed op 1 december 1987. Daarmee legt David ook de link naar zijn debuut 'A Lovers Question' (Label Bleu 1968), een samenwerking met teksten van James Baldwin, en een vooraanstaande groep muzikanten (Pierre Van Dormael, Steve Coleman, Michel Hatzigeorgiou, Chris Joris, Diederik Wissels, Byard Lancaster, Pierre Vaiana, Slide Hampton, Jimmy Owens, Bob Stewart, Deborah Brown en Viktor Lazlo).
Natuurlijk mocht een duo niet ontbreken met pianist van het eerste uur Diederik Wissels, 'The Bystander Effect', waarin Diederik nu eens heel anders uitpakt en met David de elektronische toer opgaat met toetsen, vocale effecten en overdubbing. Wissels en Linx vormen al meer dan dertig een tandem en dat bezegelen ze in dit album met 'effect'.
Maar Linx trok ook andere pianisten aan in zijn carrière en sommigen nodigde hij opnieuw uit voor dit album. De Armeense jazzpianist Tigran Hamasyan schittert in een introspectieve versie van 'Round Midnight', de nu 86-jarige Ran Blake in het typisch eclectische 'Vanguard', de Israëlische pianist Or Solomon in het repetitief gedreven 'Hunter' en de Argentijnse tangomeester Gustavo Beytelmann in 'Como La Cigarra'. In elk ervan benadert Linx met de hem eigen vocale schwung en passie de passende sfeer.
In de genre-overschrijdende kleurrijke instrumentatie toont Linx zijn veelzijdigheid en vocaal meesterschap en bovenal ook zijn stem als instrument. Zo neemt hij de luisteraar mee op sleeptouw in de Portugese taal en Braziliaanse klanken met Hamilton De Holanda op cavaquinho en in duo zang met Rani Weatherby op ukulele in 'Tonight You Belong To Me'. Nog in duo zang is er het schitterende 'Waves' met de Duitse zanger Theo Bleckmann die dit componeerde.
Andere virtuoze instrumentalisten bieden zich aan in 'Close To You' met Magic Malik op fluit, in 'Making Do, Making New' (door Linx geïnspireerd op Elgar) met Éric-Maria Couturier op viool, en in het nostalgische 'By The Seine' met Bart Quartier op vibrafoon.
Tenslotte gaat Linx de uitdaging aan met zowel akoestische als elektrische gitaristen. Nguyên Lê tekent voor exotische soundscapes in 'My Bee'. De voor Linx nauw vertrouwde gitarist Peter Hertmans vormt de melodische noot in Randy Newmans klassieker 'I Think It's Going To Rain Today'. En Marc Ducret zorgt voor een passende toon op een Frans gedicht van Henri Michaux in 'Emportez-moi'.
David Linx nodigt in 'Be My Guest' zijn all-time vrienden uit voor een allround muzikale en grenzeloze odyssee.
© Bernard Lefèvre



Musici:
David Linx (zang, piano)
en gasten:
Tigran Hamasyan (piano)
Or Solomon (piano, spoken word)
Hamilton De Holanda (cavaquinho)
Trevor Baldwin (spoken word)
Nguyên Lê (el. gitaar)
Éric-Maria Couturier (viool)
Bart Quartier (vibrafoon)
Diederik Wissels (electronica, toetsen)
Rani Weatherby (zang, ukulele)
Peter Hertmans (el. gitaar)
Gustavo Beytelmann (piano)
Marc Ducret (akoestische en el. gitaar)
Ran Blake (piano)
Theo Bleckmann (zang)
Magic Malik (fluit)