David Linx - Be my guest The duo project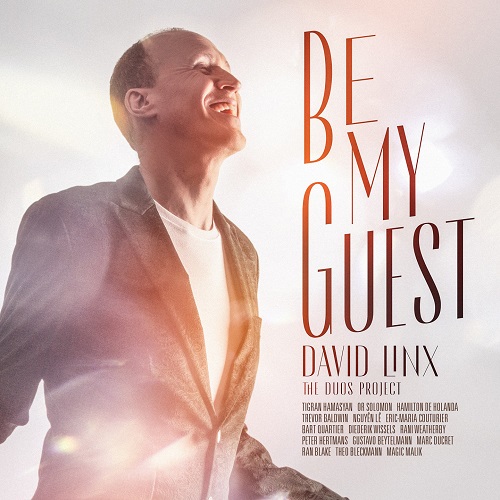 D
Cristal - L'Autre Distribution
Pour ce "Be my guest", David Linx a décidé de convier une quinzaine d'invités, des amis croisés de par le monde, au fur du temps.
"This project came to me naturally, like an inventory claiming its due, almost as if I'd gone back to school. It's a tribute of sorts to the art of transmission, the spirit of curiosity, inseparable from and essential to the journey of all the self-taught artist. This album is a way of keeping my inner flame alive as a self-taught artist, the flame that shines and burns from the inside out, to simply be or become the witness or the reflection of one's time. So, I contacted each of the amazing musicians on this album to explore these ideas together. They are all artists I deeply respect and with whom I have a beautiful friendship as well as a common vision of music making" (David Linx).
Dans cet objectif, il a choisi la formule intimiste du duo, ce qu'il avait fait auparavant avec Diederik Wissels puis en compagnie de Michel Hatzi, le bassiste d'Aka Moon (album "Wordsmith").
Il croise une série de musiciens d'horizons très différents mais aussi des vocalistes. Au long de sa carrière, n'a-t-il pas croisé la Portugaise Maria João ("Follow the songlines"), la Néerlandaise Fay Claassen et l'Italienne Maria Pia De Vito ("One heart three voices") ou la Française Natalie Dessay et le Brésilien Ivan Lins ("Changing Faces", avec le Brussels Jazz Orchestra).
La particularité de David Linx, ce qui le différencie complètement de la tradition des crooners, c'est qu'il utilise la voix comme un instrument à part entière. Il utilise tout le spectre vocal: chant en anglais, en français, en portugais ou espagnol, vocalises, spoken words, slam, overdubbing de backing vocals. C'est ce qui se vérifie ici. Tout démarre avec le spoken words de Trevor Baldwin, neveu de l'écrivain anti-ségrégationniste James Baldwin ("The fire next time"), il fait le récit de l'installation de son oncle en Provence à Saint Paul de Vence. Un moyen d'évoquer cet album des débuts de David, "A lover's question" enregistré avec la collaboration de l'écrivain et là aussi de nombreux invités. D'autres vocalistes ont été conviés comme Theo Bleckmann, qui a enregistré "Elegy" avec Ben Monder pour ECM ("Close to you"). "Waves" est interprété à deux voix, sur un rythme tourbillonnant. T"onight you belong to me", aux allures de chanson country/folk, est enregistré avec Rani Weatherby, spécialiste de l'ukulele. David a aussi invité des amis musiciens.
D'abord des pianistes, comme l'Israélien Or Solomon, aux motifs répétitifs et obsédants qui épousent les vocalises de David. En second, le pianiste d'origine arménienne Tigran Hamasyan, dans une version très personnelle de "Round Midnight" au cours de laquelle les vocalises puis le chant se lovent dans la trame tissée par le pianiste avec des sonorités planantes. Diederik Wissels, pour sa part, a opté pour des effets électroniques plutôt que le piano acoustique à la différence des albums gravés dans les années '90, ceci avec un recours à l'overdubbing pour multiplier les effets de voix. Sur "Vanguard", David retrouve Ran Blake dont on se rappelle le duo avec Enrico Rava: son piano en constantes improvisations sinueuses dans lesquelles se glissent vocalises et paroles. Enfin pour le dernier titre, "Como la cigarra" chanté en espagnol, David a fait appel à un des maîtres du tango, Gustavo Beytelmann qui a formé un célèbre trio avec Juan Jose Mosalini au bandonéon et Patrice Caratini à la contrebasse: l'occasion d'une superbe ballade évoquant l'amour. Parmi les autres musiciens invités, des guitaristes. D'abord  Nguyên Lê ("Tales from Viet-Nam"): sur "My bee", la voix épouse les sonorités planantes et irisées du guitariste d'origine vietnamienne. Ensuite, le Belge Peter Hertmans, un guitariste de tradition jazz classique, l'occasion d'une autre ballade ("I think it's going to rain today"). Enfin, le Français Marc Ducret que David avait déjà croisé pour "Bandarkah", une guitare acoustique hors normes, avec effets de distorsions, l'occasion d'une chanson originale en français ("Emportez-moi"). Et puis la mandoline aux sonorités limpides, sur un rythme virevoltant, du Brésilien Hamilton De Holanda, maître du choro, pour une ballade gorgée d'émotion et chantée en portugais ("Pagina De Dor"). Reste encore la flûte de Magic Malik, le chant vient se lover sur la trame d'une flûte fluide, à la sonorité d'une grande pureté pour déboucher sur des effets de voix.
Ensuite, le violoncelle classique d'Eric Maria Couturier, de l'Ensemble Intercontemporain, pour une ballade et le vibraphone de Bart Quartier, un accord très réussi entre vibraphone et chant.
David Linx propose ainsi une grande variété de climats qui lui permettent d'illustrer toute l'étendue de son art vocal et de l'éclectisme de ses passions.
© Claude Loxhay
Une collaboration JazzMania / Jazz'halo