David Golek / Tiltan - The Rabbit Who Saved The World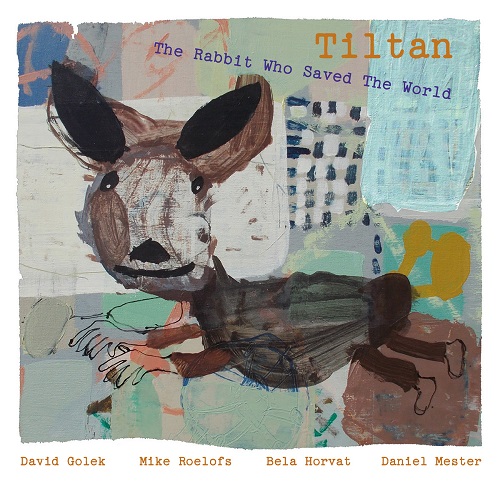 D
Kululush Records
Gitarist David Golek is geboren uit een Poolse vader en een Frans-Algerijnse moeder. Hij groeide op in Europa, Zuid-Amerika en Israël. Momenteel verblijft hij in Amsterdam. Geen wonder dat hij verschillende soorten muziek verenigt en een brug slaat tussen culturen in zijn spirituele zoektocht. Met zijn groep Tiltan mixt hij jazz met folk en hedendaags klassiek. 
Tiltan betekent in het Hebreeuws 'klaver' en een klavertjevier brengt geluk. Met 'The Rabbit Who Saved The World' refereert hij naar 2023, het jaar van het konijn volgens de Chinese kalender. En het konijn is het meeste elegante en zachtaardige dier onder de Chinese sterrenbeelden. Golek wil dan ook graag hoop en geluk in zijn muziek weergeven.
Door de originele benadering van gitaar met harmonium en viool over vocale poëzie met accenten van whistling en klarinet maakt Tiltan een boeiende en betoverende indruk. Er klinkt doorheen dit album weemoed ('Echoes of Tomorrow'), nostalgie ('A Road Less Travelled', 'Nostalgia For An Unknown World'), passie en poëzie ('Hafla'), natuur ('If Mountains Could Talk' met een fluitende Roelofs). 'Circular Days', in zowel instrumentale als vocale versie, draait rond gedachten en impressies, familie, het verleden en het heden. In 'Bonus Track' soleert Golek met verve en geeft Roelofs fijne begeleidende accenten op harmonium.
Violiste Bela Horvat en klarinettist Daniel Mester zorgen naast Golek en Roelofs voor schitterende interacties, dit hoor je onder meer in 'First Day' en 'New Live'.  
David Golek is een gitaarpoëet vol passie en verbeelding en opent een weidse muzikale wereld vol verhalen in 'The Rabbit Who Saved The World'.
Via bandcamp geeft Golek overigens de titels vertaald naar het Nederlands. Het hoesontwerp is van de Israëlische kunstenaar Vered Gersztenkorn.

© Bernard Lefèvre






Musici:
David Golek (gitaar, zang, composities)
Mike Roelofs (harmonium, melodion, whistling)
Bela Horvat (viool)
Daniel Mester (klarinet)

https://davidgolekmusic.com/