Daniele Morelli - Vexations Vol. 4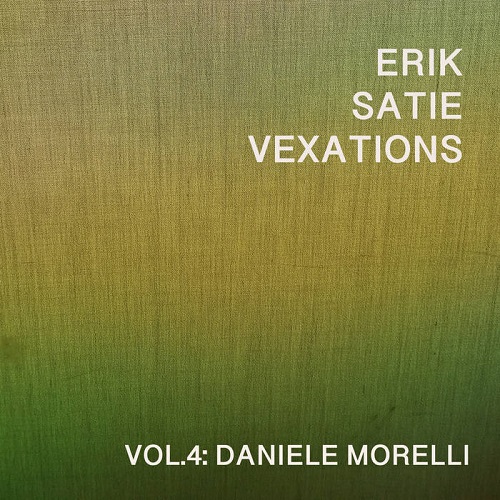 D
Off Records
Am besten lesen wir erst einmal, was der italienische Gitarrist Daniele Morelli zu Eric Satie und dessen Komposition "Vexations" zu sagen hat:  "The amount of memories I have thinking about Erik Satie's music is endless, so when I heard that Off record wanted to record an entire version of Vexations with different artists I decided to give my contribution. It's a composition which means something like annoyances. Sometimes art is virtuosism, sometimes is something else. In this case "Vexations" is like a purification ceremony. … I decided to record the theme and its harmonisations with soundsand effects to cause even more troubles but also reflections and meditations at times." Nein, Synth oder Moog ist bei der vorliegenden Aufnahme nicht mit im Spiel. Man denkt hier und da, Morelli habe die Rufe tropischer Vögel auf Band aufgenommen und zu seinen wiederkehrenden Gitarrenläufen hinzugefügt. Ab und an nimmt man auch ein aufdringliches Schreien wahr, das entfernt wie das Kreischen von aufgeregt aufliegenden Möwen oder Sturmvögeln klingt, die glauben, ihr Nest sei bedroht.
Über den ruhigen Linien, die Morelli spielt, zucken blitzartige schrille Tonschlieren auf. Rauschen ist auszumachen und auch Streicher meint man zu hören, wenn das Stück seinen Fortgang nimmt. Nachhaltig im Kopf bleibt aber das Tschilpen und das Zwitschern, bei dem man an eine Schar Darwinfinken und Wellensittiche denken muss. Auch Gelbhaubenkakadus scheinen sich bei Morelli eingefunden haben. Dazu vernehmen wir perkussive Strukturen. Beinahe stoisch erscheint die Gitarrenbegleitung, die wie ein festes geknüpftes Gewebe die Folie bildet, die die Grundlage der wilden Klangexzesse ist. Getrappel ist im Nachgang wahrzunehmen. Lang gezogene Tonfolgen folgen und dazu meint man, klanglich den sich verflüchtigenden Flügelschlag von Zugvögeln ausmachen zu können. Tonale Flächen werden mit Geräuschen gefüllt, stabilisiert werden diese durch harte Riffs. Gelegentlich drängt sich beim Zuhören das Bild auf, man besteige mit Morelli einen Vogelfelsen, auf dem Seevögel wie Alke und Lummen zuhause sind. Ist da nicht vom italienischen Gitarristen ein Wiehern eingefangen worden? All diese Klangeindrücke sorgen für Irritation, lassen nicht zu, dass der Hörer gänzlich in der Musik versinkt. Kaum hat er sich auf Morellis Saitenspiel eingelassen, wird er durch einen eruptiven Klangschwall und "Platzregen" abgelenkt. Im Kopf des Zuhörer setzt sich die Vorstellung einer szenischen Inszenierung mit dramatischen Wendungen fest. Alles scheint im Fluß und doch wieder nicht. Geräuschwelten vereinen sich mit Gitarrenlinien in der Endlosschleife.
Im Original ist "Vexations" (dt. "Quälereien") ein Klavierstück mit wiederkehrenden Teilen, das im ausgehenden 19. Jahrhundert entstanden ist. Morelli ist nur einer von weiteren Instrumentalisten, die von Off Records um eine Interpretation gebeten und nach dem Bezug zu "Vexations" gefragt wurden. Welche Intention dahinter steht, ist Folgende: "21 different artists recording the piece 40 times = 840! So from the 21st week of 2021 and for the next 21 weeks, one of the 21 volumes will be released. Only one demand: each participant plays the piece 40 times on any instruments of their choice, tempo or arrangement they want. Enjoy!"
Abschließend noch ein Wort zum Gitarristen und Komponisten Morelli: Zunächst erlernte er das Klavierspiel, ehe er mit 11 Jahren die Gitarre für sich entdeckte. Vier Jahre lang wurde er in diesem Instrument am Music Artwork Village unterrichtet. Außerdem studierte er in Siena Jazz, ehe er 2009 nach Lyon übersiedelte, um am dortigen Konservatorium seine Studien fortzusetzen. Zu seinen Lehrern zählten unter anderem Gilad Hekselman, Mike Moreno und Philippe Roche. Seine Albeneinspielungen umfassen "Milvus" (2008), "Mision azul" (2016) und das demnächst erscheinende namens  "La valigia dei sogni" (Sept 2021), das er gemeinsam mit Matteo D'Ignazi aufgenommen hat!
© fdp

Infos
https://vexations840.bandcamp.com/album/vexations-vol-4-2
http://off-recordlabel.blogspot.com
https://open.spotify.com/artist/54SNJ6uEvkIpXxf2grFGEb
https://www.facebook.com/daniele.morelli.372