Daniel Zimmermann - Dichotomie's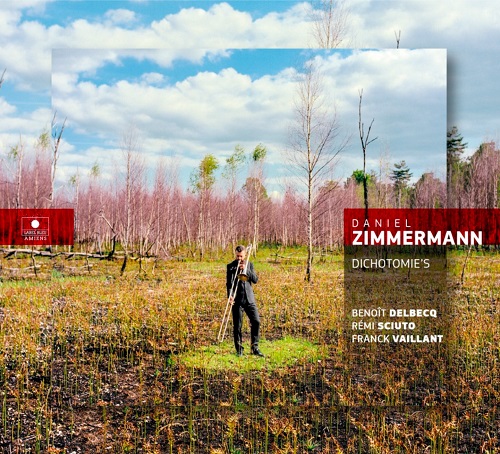 D
Label Bleu / L'Autre Distribution
En 2016, on découvrait Montagnes russes, un passionnant album du tromboniste français Daniel Zimmermann, enregistré en compagnie de Pierre Durand (g), Jérôme Regard (cb) et Julien Charlet (dm). Fondateur du groupe DZP avec le saxophoniste Thomas de Pourquery et d'un trio avec Manu Codjia (g) et Vincent Peirani (acc), Daniel Zimmermann a aussi fait partie du Sacre du Tympan de Fred Pallem.
Toujours pour Label Bleu, voici Dichotomie's, un album gravé avec une formation à l'instrumentation expérimentale.
Au piano et aux claviers, Benoît Delbecq, le fondateur de Kartet (nombreux albums avec Guillaume Orti, Hubert Dupont et, pour les dernières années, Stéphane Galland). Doté d'une technique très originale et adepte des claviers et du piano préparé, il a aussi côtoyé Joëlle Léandre, Marc Ducret et le clarinettiste François Houle.
Au saxophone basse, Rémi Sciuto, l'un des membres fondateurs de la Campanie des Musiques à Ouïr, avec Denis Charolles et Christophe Monniot mais aussi sideman pour Patrice Caratini ou Le Sacre du Tympan.
A la batterie, le fougueux Franck Vaillant, membre du nouveau trio de Laurent Dehors, il a aussi côtoyé Christophe Monniot et fondé Benzine, notamment avec Guillaume Orti et Benoît Delbecq.



L'une des originalités de Dichotomie's réside dans le rôle de Rémi Sciuto: soliste avec une sonorité qui se rapproche d'un baryton (solo sur Little sun, Le monde d'après, belle intro sur Volatiles, bel échange trombone-saxophone basse sur The butter & the money), Sciuto tient, à d'autres moments, un rôle purement rythmique, comme le ferait un tuba, à la place d'une contrebasse.
Benoît Delbecq, omniprésent au piano, peut mêler à son jeu des effets de claviers (Vieux robot) ou de piano préparé (Les moutons de Panurge) et Franck Vaillant, autant percussionniste que simple batteur, galvanise ses complices de bout en bout.
Doté d'un gros son gras (The butter & the money, Volatiles, Le monde d'après), qu'il tamise parfois à l'aide d'une sourdine (Les moutons de Panurge, Summer in Barrancoueu), Daniel Zimmermann dynamise avec fougue ses neuf compositions originales, "suite sans fin de choix binaires". Des ballades lumineuses (Little sun sur fond de piano préparé) ou plus sombres (Eclipse à la "fin crépusculaire") alternent avec des tempos ultra-up (Les moutons de Panurge, Summer in Barrancoueu avec "gros solo de batterie"), un groove bancal (Toad Buffalo coutship dance, Vieux robot avec effet de pédale wa-wa), des thèmes  proches des rythmes gnawas (Le monde d'après sur fond de boîte à rythme détraquée) ou lorgnant vers Henry Threadgill (Volatile déjà enregistré avec DPZ).
Un album original de bout en bout et traversé par une fougue inextinguible.
© Claude Loxhay