Daniel Erdmann's Velvet Revolution: A short moment of zero G (C. Loxhay)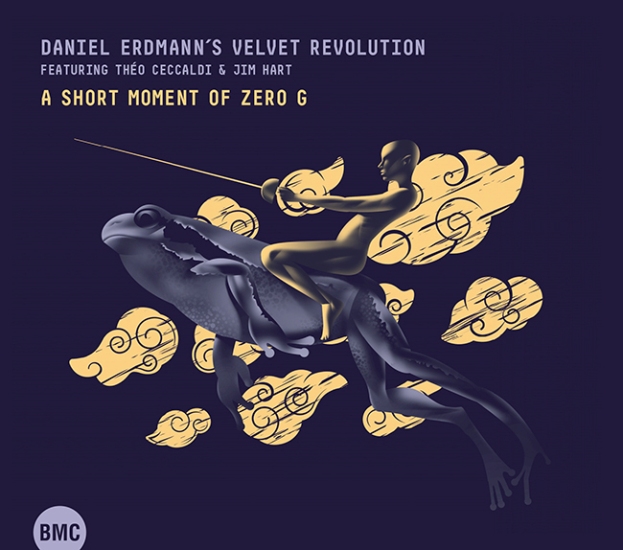 D
BMC/Music & Words
Le saxophoniste allemand Daniel Erdmann a participé à différents trios: Das kapital, avec Hasse Poulsen (g) et Edward Perraud (dm); The Mediums, en compagnie de Vincent Courtois (cello) et Robin Finker (ts).
En voici un nouveau à l'instrumentation très originale: au violon et violon alto, le Français Théo Ceccaldi, au vibraphone, l'Anglais Jim Hart.
Daniel Erdmann a découvert le premier au sein du trio que le Français forme avec son frère Valentin au violoncelle et Guillaume Aknine à la guitare. Mais Théo Ceccaldi  fait aussi partie de l'Orchestre National de Jazz d'Olivier Benoît, du tentet de Joëlle Léandre, de Petite Moutarde avec la saxophoniste Alexandra Grimal ou de La Scala avec le pianiste Roberto Negro.
Quant au second, il l'a découvert lors de passages à Londres. Vibraphoniste et batteur, Jim Hart a joué avec Kenny Wheeler, John Taylor ou Stan Sulzmann. Il a formé le groupe Gemini, avec le pianiste Ivo Neame et enregistré Live at Pizza Express avec le trompettiste Ralph Alessi.
Pour ce trio hors des sentiers battus, Erdmann a écrit 11 compositions originales. Un Univers très personnel, aux multiples références: le nom du trio Velvet Revolution est une métaphore qui évoque aussi bien la fin du communisme en Tchécoslovaquie qu'une volonté plus générale de changement, le premier titre A Pair of Lost Kites Hurrying towards Heaven est un emprunt à la nouvelle A Christmas Memory de Truman Capote et Quand j'étais petit je rêvais d'être pauvre est une phrase du poète camerounais André Zem Jam Afane. D'autres titres font allusion à son parcours: Les agnettes est le nom de la station de métro à laquelle il descendait à Paris pour rendre visite à Christophe Marguet (le batteur français fait partie de Special Relativity) et Les frigos est le nom d'un loft, lieu de répétition de musiciens.
La musique de Erdmann est un véritable brassage d'influences: jazz, swing (Swing für Europa, Try to run), blues, musique populaire (A pair of lost Kites, Quand j'étais petit), le tout baigné dans cette atmosphère propre à Hans Eisler (auquel Das Kapital a rendu très souvent hommage).
Ainsi A Pair of lost Kites, avec sa mélodie sautillante portée par le saxophone ainsi que le violon et son rythme de guingois marqué par le vibraphone, évoque l'univers d'Eisler ou de Kurt Weil. A d'autres moments, ce sont les pizzicati de Ceccaldi qui marquent la cadence, à l'image d'une contrebasse (Infinity Kicks in). Si c'est essentiellement le saxophone d'Erdmann, avec sa sonorité très personnelle, tantôt aux couleurs pastels, tantôt déchiré, ou alors le violon voltigeur de Ceccaldi (Velvet Revolution, Les agnettes) qui portent la mélodie, c'est le vibraphone qui assume ce rôle sur Swing für Europa ou Try to run.
Certains thèmes se développent comme des hymnes, mêlant solennité et atmosphère mélancolique: A short moment of zero G, une musique en climat d'apesanteur.
Ce Velvet Revolution est, à mon sens un des meilleurs projets d'Erdmann, avec The Mediums vu au festival Jazz Brugge, il y a quelques années.

Claude Loxhay