Dancing With Don – Dancing With Don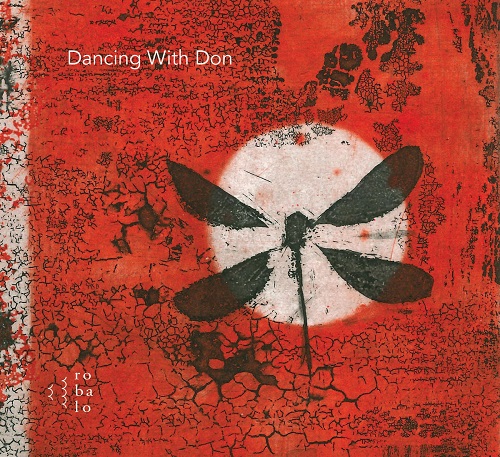 D
Robalo Music
Voor haar nieuw project koos Lynn Cassiers begeleiders uit haar vaste pool van vrienden-muzikanten. Deze keer stapten Manolo Cabras en João Lobo mee de studio in.
Indien we het aantal opnamen tellen die gemaakt werden tijdens de Covid "close down" begint het meer en meer op een gezegende periode te lijken. Ook Lynn Cassiers had plots tijd om een totaal vrijblijvend initiatief te nemen. En wie beter uit te nodigen dan drummer João Lobo en contrabassist Manolo Cabras om in de home studio van deze laatste te improviseren? Het eindresultaat is een haast etherische klankband onderverdeeld in negen timbrespielereien.
Cassiers weet als geen ander wederom de meest bizarre stemverbuigingen om te toveren tot zowel sensueel als fluisterend expressiemateriaal. Haar electro omkadering blijft al even verwonderlijk en in dit geval zelfs uiterst beperkt. Cabras plukt aan de snaren en schuifelt met de strijkstok heen en weer om organische effecten te bekomen. Lobo maakt op zijn beurt gebruik van borsteltjes en wendt de drumsticks aan voor wat percussieve accenten.
Elk nummer zit boordevol details die elkaar aanvullen of net voor tegenstellingen zorgen. Wie op zoek gaat naar swing en grooves is eraan voor de moeite. Diegenen die echter graag verdwalen in electro-akoestische nevelen van het grote improvisatierijk hebben hier een hele kluif aan. Titels als 'The Elephant and the Whale', 'The Mermaid's Boots' en 'Walking Peaches' bieden voldoende potentieel om het eigen verbeeldingskompas tilt te laten slaan. Met 'Bottulusu & Bottuleddusu' is er bovendien een knipoog naar de cd 'I Wouldn't Be Sure' van Manolo Cabras & Basic Borg. En dan is er nog 'Firulì Firulà', niet te verwarren met Paolo Belli zijn ska-reggae hit! Laat vooral alle kennis van traditionele herkenningspunten achterwege en volg uw intuïtie. Verpakt in een prachtige uitvouwbare hoes van Claudia Ignoto.
Opvallende parallellen zijn deze met de wondere wereld van Anna Homler die recent een aantal fascinerende albums uitbracht zoals 'Deliquium in C' (Präsens Editionen), 'Vasi Comunicanti' (gangofducks) en haar vinyl met Adrian Nortover en Dave Tucker (pharmacia poetica).
© Georges Tonla Briquet

Musici:
Lynn Cassiers: stem, electronics
Manolo Cabras: contrabas
João Lobo: drums

www.robalomusic.com
www.lynncassiers.com