Dan Wilson - Vessels of Wood and Earth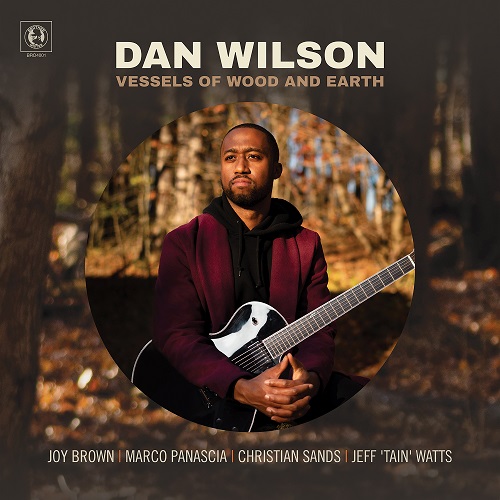 D
Mack Avenue / Newartsint.
Entrons dans le vif du sujet, le feu bouillonnant d'un guitariste à découvrir:  « The Rhythm Section » ouvre l'album comme un bon vieux thème bop – pourtant une composition originale de Dan Wilson - mené d'entrée par le drumming d'enfer de Jeff « Tain » Watts, la basse vibrante de Marco Panascia et le swing de Christian Sands au piano.
Un premier titre qui explicite aussi le titre de l'album inspiré par le deuxième livre de Timothée qui dit « Mais dans une grande maison, il n'y a pas seulement des vaisseaux d'or et d'argent, mais aussi de bois et de terre. »
Ces vaisseaux de bois et de terre représentent pour le guitariste la section rythmique, souvent reléguée à l'arrière-plan, mais ici mise en évidence tout au long d'un album sans souffleur :  le guitariste sur toutes les plages, la section rythmique se compose de Christian Sands – piano, synthés et orgue – Marco Panascia à la double basse et Jeff « Tain » Watts à la batterie, et on trouve deux invités, Joy Brown au chant et Christian McBride sur deux titres.
Outre le thème qui introduit l'album, une autre composition de Dan Wilson traduit cette volonté de mise en avant de la rythmique « The Reconstruction Beat » avec Watts très en avant. Plusieurs titres traduisent les racines du guitariste, ainsi trouve-t-on à deux reprises Marvin Gaye – « Inner City Blues » et « Save The Children » dans un medley avec « After The Rain » de Coltrane -, « Bird of Beauty » de Stevie Wonder, « Cry Me A River » ou « James » de Pat Metheny et Lyle Mays, ou « Born to Lose », titre du chanteur country Ted Daffan, aussi repris par Ray Charles, ces deux derniers joués en duo guitare/contrebasse avec l'immense Christian McBride.
Tout au long de l'album, Dan Wilson ne peut renier ses influences : on entend Wes Montgomery, Kenny Burrell, George Benson par moments aussi, une musique gorgée de chaleur, de soul, rien d'étonnant pour un musicien formé à l'église au gospel. C'est brillant de bout en bout. Après nous avoir fait découvrir Veronica Swift, Cameron Graves, Christian Sands ou Cecil McLorin Salvant, le label Mack Avenue ajoute une nouvelle pépite à son catalogue, décidément un des plus attractifs de ces dernières années.
© Jean-Pierre Goffin
Une collaboration JazzMania / Jazz'halo