Dan Weiss Trio – Dedication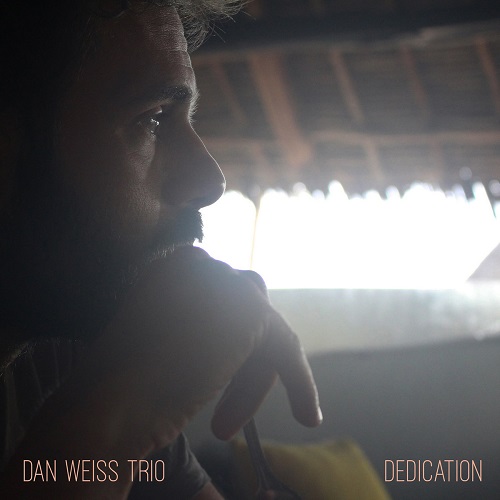 D
Cygnus Recordings
So urteilt die Presse über den Drummer und Komponisten Dan Weiss: "Weiss has not only found a singular voice on his instrument — he has also put his insights to vivid compositional use." (David Adler, All About Jazz) Eingespielt wurde das aktuelle Album gemeinsam mit dem Pianisten Jacob Sacks und dem Bassisten Thomas Morgan.
"I like to think of myself as someone who is coming out of the tradition but trying to push it forward . … So the piano trio is ideal because it's such a traditional setting, but it allows for so much exploration and freedom. And when you share a long history like I have with Jacob and Thomas, you explore things together, you hit on things together, you try things out together, so the seeds of what we're doing now were planted 20 years ago and have continued to develop since then. It feels natural to always come back to it." Das sagt der Drummer Dan Weiss über seine Mitspieler und das neue Album. Die eingespielten Tracks sind ganz persönliche Widmungen nicht nur für die eigene Tochter und Großmutter, sondern auch für den von Polizisten ermordeten George Floyd, für den sowjetischen Filmemacher Tarkovsky, dem Schöpfer von "Solaris", für den Komponisten Bert Bacharach oder für den Drummer Elvin Jones.
Ouvertüre des Albums ist eine Widmung an den verstorbenen Gründer einer britischen Post-Punk-Band namens Tim Smith. Treibende Schlagzeugrhythmik verschmilzt mit energischen Tastenstrudeln, die dem Pianisten zu verdanken sind. Zugleich hat man das Bild eines sich nach und nach entwickelnden reißenden Stroms vor Augen, folgt man dem dynamischen Tastenspiel von Jacob Sacks. Hier und da nimmt er auch Stromschnellen in sein Spiel auf. Unbändigkeit erleben wir und ein stetes Vorwärts, wenn es auch durchaus ruhige Passagen in diesem Track zu hören gibt, so als würde das Röhren des Stroms durch das unterirdische Abfließen gedämpft werden. In diesen ruhigen Passagen kommt dann auch der Bassist mit seinem Fingerspiel zur Geltung. Dabei folgt die Dynamik des Spiels dem des Pianisten, wenn auch nicht mehr dem "Furor", den der Pianist an den Tag legt. In ruhiges Fahrwasser entführt uns das Trio mit "Vivienne": Gleich einem lauen Sommerwind wird das Melodische gestaltet, durchaus mit Schlagwerkrauschen im Hintergrund, aber mit den Piano-Sequenzen im Fokus des musikalischenGeschehens. Dabei meint man auch etwas Tänzerisches wahrzunehmen.
"For George Floyd" ist gleichsam auch ein politisches Statement des Trios. Wie andere Amerikaner auch entsetzte und empörte der Mord an dem Afroamerikaner durch weiße Polizisten. Die Lynchmorde in den Südstaaten, die Billie Holiday in "Strange Fruit" besungen hat, scheinen in der amerikanischen Gegenwart erneut lebendig zu werden. Getragenes steht im Fokus. Der Schlagwerker lässt unter anderem eine tickende Uhr hörbar werden. Basslastig ist das Spiel des Pianisten. Zeit scheint zu verrinnen. Zäsuren werden gesetzt, Pausen kurzer Natur auch. Es scheint, hier wird ein Geschehen in Fragmenten erzählt, in Momentaufnahmen musikalischer Natur vor Augen geführt. Und am Ende ist dann Stille. George Floyd lebt nicht mehr.
Zu dem Stück "For Andrei Tarkovsky" sagt der Komponist Dan Weiss: "I was thinking about the spiritual aspect of his work and the serenity I feel when I watch his movies .There's so much tranquility and beauty in each shot of his films. There's nothing wasted, nothing superfluous. So in that spirit I tried to make each note count." Wehmut scheint ausgelebt zu werden, Ruhe und Langsamkeit, Innensicht und Kontemplation. Das spiegelt sich auch in den Linien des Tracks wieder, die teilweise Anmutungen an Chopin erkennen lassen, auch wenn das überbordende Schlagwerkrauschen und das kristalline Spiel des Pianisten gegen diese Anmutungen agieren. Eine gewisse Stetigkeit erleben wir im Verlauf des Stücks, einschließlich Umspielungen und tonale Trittsteine.
Schließlich noch ein Wort zu "For Elvin": Dan Weiss eröffnet das Stück mit einem veritablen Schlagwerksolo. Verwirbelungen treffen auf Basstrommelschritte. Und der Bass stimmt mit ins Solo ein, unterstützt die Basslastigkeit für eine Weile, ehe sich dann der Pianist das Wort nimmt. Dramatisch ist dessen musikalische Inszenierung. Auf- und Abgänge wie in einem Akt eines Theaterstücks nehmen wir wahr. Überschläge im Diskant sind auszumachen, ehe dann der Bass in die Tiefe seines Instruments eintaucht. Tätämtäm – so äußert sich der Drummer und manchmal auch eher in Synkopen und einem Blechgeflirre. One up, one down scheint der Drummer uns zu sagen, ehe dann das Trio in Gänze zu hören ist.

© ferdinand dupuis-panther

Info
https://www.danweiss.net/
BANDCAMP
https://cygnusrecordings.bandcamp.com/

Tracklisting
1.For Tim Smith 05:39
2.For Vivienne
3.For Nancarrow
4.For George Floyd
5.For Jacob    
6. For Andrei Tarkovsky
7. For Bacharach
8.For Elvin    
9.For Grandma May