Dan Costa - Beams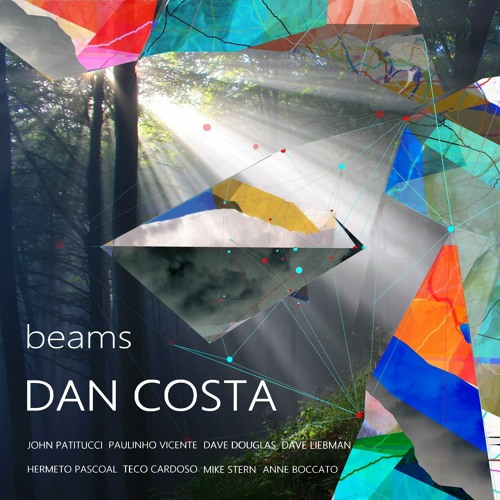 D
Self-produced
This album begins by immersing the listener in a warm glow; acoustic piano voicings with a subtle Bill Evans flavour and a prominent double bass line, leading into a hushed trumpet theme. In the sleeve notes Randy Brecker enthuses about Costa; "His virtuosity is evident, but he uses it very sparingly, and all his famous guests are in the same zone...less notes but a lot of lovely, heartfelt, emotional, music."
The band is built around the trio of Dan Costa, John Patitucci double bass and Paulinho Vicente drums, whose interaction is impressive throughout. Star guests on trumpet, alto sax, soprano sax and guitar feature on one track each. Anne Boccato's wordless vocals lead two other tracks, navigating some challenging melodic shapes with impressive accuracy.
Dan Costa was born in 1989 in London to an Italian and Portuguese family. He studied classical piano in France and wrote his first composition at the age of twelve. His Latin roots coupled with his passion for jazz led him to study at the Escola Superior de Música e Artes do Espectáculo in Portugal, where he was awarded a merit grant to study Brazilian music at UNICAMP  in São Paulo.
All compositions on the album are by him and they're finely crafted; harmonic structures glide smoothly on some cunning voice leading. There are lots of free tempo sections and the rubato is striking on a latin flavoured piece like "Encaminho" allowing the music to breathe and creating subtle rhythmic tensions. On "Sparks of motion" Mike Stern uses Metheny-esque chorus and echo, then adds incisive rhythmic spark in his playing. After a meditative guitar intro, the theme is stated on piano, followed by guitar and bass solos on the changes then a reprise of the theme on guitar.
Costa also produced the recording, working with mixing/mastering engineer Jack Conners and they have created a beautiful close-up sound favouring the piano and bass, but not unrealistically so. The drums play an orchestral role in the Roy Haynes/Jack DeJohnette tradition, providing  plenty of energy whilst avoiding obvious "grooves". Patitucci's bass solos are highlights throughout, reminding me of Scott LaFaro. As well as his solo work, Costa is a very active and imaginative accompanist.
I think lots of listeners will love this music but others may find it slightly lacking in jeopardy - it is quite a mainstream sound and these warm chords are now well established in our sonic memory. For me the harmonies and counterpoint are excellent but themes and motifs don't always hold the attention immediately; it takes a while to discover the music's subtle charms. It's worth listening closely though because it's rare to hear collective improvisation with such great players and rhythmic freedom.

© Stephen Godsall



Musicians:
Piano, compositions, arrangement, production - Dan Costa
Double bass - John Patitucci
Drums - Paulinho Vicente
Trumpet - Dave Douglas
Alto Saxophone - Teco Cardoso
Electric Guitar - Mike Stern
Soprano Saxophone - Dave Liebman
Percussion - Hermeto Pascoal
Vocals - Anne Boccato
Recorded by Alex Conroy at Bunker Studio, New York City, USA
Mixing/mastering engineer: Jack Conners