Dal Sasso Big Band - John Coltrane's Africa Brass revisited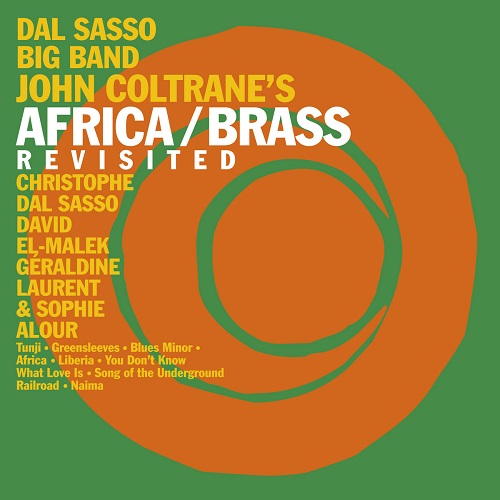 D
Jazz & people
Christophe Dal Sasso est flûtiste mais il est surtout connu comme arrangeur pour grands ensembles, comme cette « Ouverture » pour 11 musiciens en 2004. Il s'attaque ici au répertoire de John Coltrane, comme il l'avait déjà fait en 2014 pour « A Love supreme ».
Il revisite maintenant « Africa Brass » dont le premier album sort chez Impulse en 1961 suivi en 1974 d'un « volume 2 », avec Eric Dolphy (« Africa ») mais aussi Booker Little (tp), 4 cors , un tuba et un saxophone baryton.
Le répertoire ne comprenait que trois titres: « Africa », « Greensleeves », « Blues Minor ». Dal Sasso propose lui d'y adjoindre "Liberia", "Tunji", "You don't know what love is", "Song of the underground", "Railroad" et le mythique "Naima". Dal Sasso propose des arrangements savamment agencés qui utilisent toute la palette sonore de l'ensemble: deux trompettes, deux trombones, deux saxophones alto, deux ténors (+ clarinettes et flûte, à l'occasion), un saxophone baryton/clarinette basse, la flûte du leader, piano de Pierre de Bethmann, contrebasse, batterie de Karl Jannuska et tambour gadeloupien  gwo-ka d'Andy Berald Catelo.
Les arrangements reposent sur la puissance de l'ensemble, ses subtilités de timbres, avec parfois des oppositions de sections comme sur « Blues Minor » et déchaînement de percussions (« Africa », « Liberia », « Tunji »).
De la masse sonore émerge, à chaque fois, un soliste: le fougueux David El Malek au ténor fiévreux (« Tunji », « Africa », « Naima », « Song of the underground railroad »), celui plus berceur de Sophie Alour (« Greensleeves », « You don't know what love is) », l'alto énergique de Géraldine Laurent (« Blues Minor », « Liberia »).
Dal Sasso tire le meilleur de chacun pour s'approcher de l'énergie survoltée du mythique John Coltrane.
© Claude Loxhay
Une collaboration JazzMania / Jazz'halo






Arrangements de Christophe Dal Sasso, sur une idée originale de Vincent Bessières.

Musiciens :
Julien Alour, Quentin Ghomari, trompette et bugle
Jerry Edwards, Daniel Zimmermann, trombone
Dominique Mandin, saxophone alto et flûte
Géraldine Laurent, saxophone alto
Sophie Alour, saxophone ténor, clarinette et flûte
David El-Malek, saxophone ténor
Thomas Savy, clarinette basse, saxophone baryton
Pierre de Bethmann, piano
Manuel Marches, contrebasse
Karl Jannuska, batterie
Andy Berlad Catelo, tambour gwo-ka
Christophe Dal Sasso, flûte, direction

Enregistrement réalisé par FIP Radio France
le 11 septembre 2020 à La Villette - Grande Halle, Paris,
dans le cadre du festival Jazz à La Villette,
pour l'émission « Live à Fip » du samedi 12 septembre 2020.