CvA Concert Big Band with Reinier Baas & Johan Plomp - Beyond The Sum of All Parts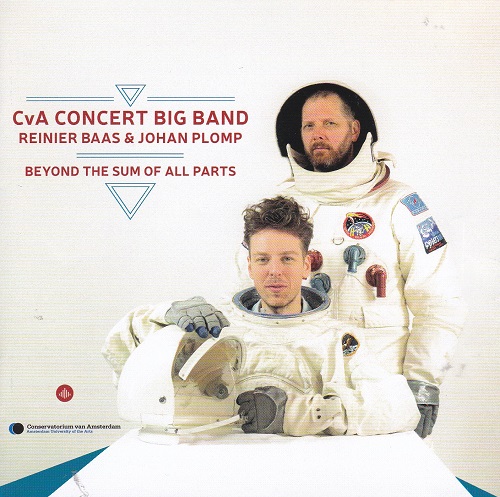 C
Challenge Records
On a rencontré Reinier Baas ces derniers temps aux côtés d'Antoine Pierre, avec « Urbex » en live, et à Flagey dans cet inoubliable révérence à « Bitches Brew ».
Révérence le mot résonne autant pour le guitariste hollandais, pour se convaincre, écoutez seulement sa version solo de « Canto de Ossanah » de Vinicius de Moraes sur youtube :



Ce guitariste se raccroche difficilement à qui que ce soit, on le dirait dans la veine de ces inclassables musiciens hollandais que sont Han Bennink ou Ernst Reijsiger, mais avec ces couleurs rock parfois destroy qu'on a pu entendre dans sa participation au concert de Flagey, toujours sur le fil du rasoir.
Avec Ben van Gelder, il fait assurément partie de cette jeune classe du Conservatoire d'Amsterdam qui n'attend pas le nombre des années pour se créer son propre style. Nouvelle preuve avec ce «Beyond The Sum of All Parts » du CvA Concert Big Band sur des compositions du guitariste (à l'exception de deux thèmes du chef-arrangeur Johan Plomp). L'album s'ouvre avec « Orthodox » et le solo de clarinette de l'invité Joris Roelofs, un morceau plein, riche, aux sonorités vrombissantes.
« The Baron » accueille un autre guest avec le trombone Ilja Reijngoud, un thème qui aurait bien servi de support à un James Bond qui aurait grandi en écoutant du bon vieux rock : le solo de Reinier Baas est soufflant de modernité, brutalement interrompu pour laisser place à un solo plus mainstream du sax-alto Joshua Schofield, déroutant et jubilatoire à la fois.
Pièce maîtresse de l'album, « Deo Volente » est porté par un long solo de Baas d'une superbe intensité, aux sonorités successivement stridentes et atmosphériques. Le volcanique « Eyjafjajökull », repris d'un précédent album comme d'ailleurs plusieurs titres est un bouillonnement constant d'idées sur un riff continu de cuivres.
Un des fidèles partenaires depuis plus de dix ans du guitariste, le saxophoniste Ben Van Gelder (tiens, encore un complice d'Antoine Pierre, et Félix Zurstrassen) est l'invité sur « The General Serenades » : approche sombre et militaire avec ses claquements de bottes qui rythment l'improvisation du saxophoniste. Autre reprise, celle de « The Dance of Princess Discombobulatrix » (allusion au « Discombopulated » de Bil Carrothers ?) et  « Taglingja », de Johan Plomp, bouclent ce voyage exploratoire intersidéral que la pochette exprime judicieusement : ces gars-là viennent d'une autre planète !
© Jean-Pierre Goffin