Cram Ration – Cram Ration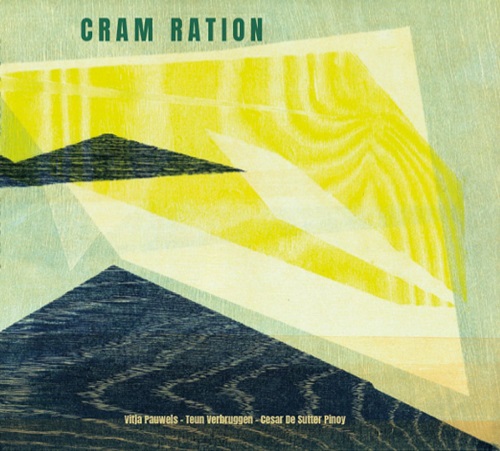 C
RAT records
Teun Verbruggen heeft wederom een nieuw improvisatietrio en dat maakt nieuwsgierig. Bij Cram Ration is hij bovendien omringd door twee gitaristen uit de nieuwe lichting, Vitja Pauwels en Cesar De Sutter-Pinoy.
Waar hij de inzet en energie haalt, is een raadsel. Want naast lid van talrijke groepen en initiatieven waar hij deel van uitmaakt (FES, The Bureau Of Atomic Tourism, Warped Dreamer,…) is drummer Teun Verbruggen bovendien nog eens de man achter Werkplaats Walter, de Brusselse jazzclub met internationale renommee. Vitja Pauwels doet vooral solo zijn ding maar is tevens actief bij Warm Bad, Bombataz en Woolvs. Op zijn beurt plaatste Cesar De Sutter-Pinoy zich op de voorgrond met onder meer Bardo en Peenoise. Kortom, drie muzikanten die elke classificatie van stijl en genre overschrijden.
Op 'Cram Ration' staan slechts vier nummers, in totaal net geen veertig minuten muziek. Zoals te verwachten (en te hopen) bij deze drie krijgen we een amalgaam van vrije vormen voorgeschoteld maar wel degelijk gestructureerd volgens een eigen dialectiek. De experimenteervreugde spat daarbij uit de luidsprekers. Elementen die we tot grote blijdschap terugvinden zijn de tegenstellingen tussen haast intimistische introducties en de daaropvolgende apocalyptische taferelen. Benauwende passages worden ontdaan van hun verstikkend effect door aansluitende uitbarstingen. Een en ander is het gevolg van continue schijnbewegingen tussen akoestisch en elektronisch. Het is duidelijk dat de drie hun individuele bagage doorzochten, overhoop haalden en daaruit materiaal pikten dat paste in deze context. 'Cram Ration' is op die manier een afspiegeling van hun afzonderlijke cv's maar het eindresultaat is duidelijk ongrijpbaar.
Ingeblikt in 2019 bij Werkplaats Walter door Simon Plancke (De Koffie van Morgen, Le Ravage d'Ali Baba) terwijl editing, mixing en mastering in handen was van Joe Talia (Jim O'Rourke, David Shea, Giovanni Di Domenico). Het is nu spannend wachten op een vervolg.
Tags: electro/metal/ambient/drone/impro.
© Georges Tonla Briquet



Musici:
Teun Verbruggen: drums, electronics
Vitja Pauwels: gitaar, electronics
Cesar De Sutter-Pinoy: gitaar, fx

www.teunverbruggen.com