Claude Tchamitchian Quintet - Ways out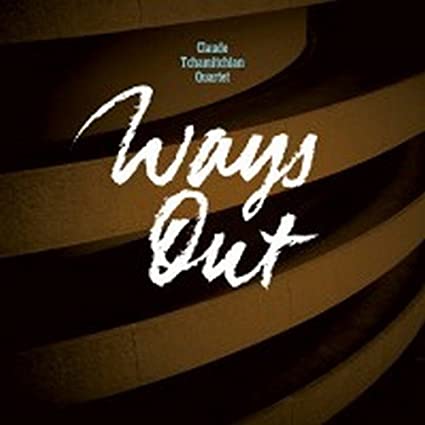 C
Emouvance
Claude Tchamitchian, leader du groupe Lousadzak, membre indéfectible du MegaOctet d'Andy Emler et contrebassiste de MikMäâk, a réuni ici une série de fidèles amis.
Au saxophone ténor, l'Allemand Daniel Erdmann (de Das Kapital) qu'il avait croisé pour l'album 'De l'Estaque aux Goudes'; le violoniste Régis Huby (du quatuor IXI) qui fait partie de Loudsazak (album 'Need Eden'); le guitariste Rémi Charmasson, croisé à ses débuts en Avignon, puis membre du duo de Caminando et de Lousadzak et, enfin, le batteur Christophe Marguet présent sur l'album 'M'.
Au répertoire, des compositions du leader, dont plusieurs sont conçues comme des suites en pusieurs mouvements, comme 'Les volcans du paradis', 'Healthy rage (déidé à Mingus)',  et 'The useless fights of the broken poet', écrit en souvenir du batteur Jacques Thollot, inséparable compagnon de René Thomas lors des festivals de Comblain (les cheveux longs, le regard perdu dans les nuages, une image qu'on oublie pas) et que Tchamitchian a croisé au sein d'un des derniers quartets de ce passionné de free jazz.
La contrebasse est évidemment omniprésente, que ce soit à l'archet ('As long as you dream sur tempo asez lent', 'Les volcans du paradis, part 2') ou dans de vertigineux pizzicati ('Les volcans du paradis, part 3'; 'Healthy rage avec une vigueur digne de Mingus'). Ténor et violon sont souvent joués à l'unisson avec une fluidité limpide ('Les volcans du paradis, part 1'), parfois avec un subtil décalage ('Les danses invisibles'). La guitare prend parfois des accents rock et Christophe Marguet se mêle aux souffleurs, toujours avec la même vigueur et précision rythmique.
Une bien belle équipe pour un jazz résolument moderne mais attaché à ses racines.

© Claude Loxhay
Une collaboration JazzMania / Jazz'halo