Christos Rafalides - Near & Dear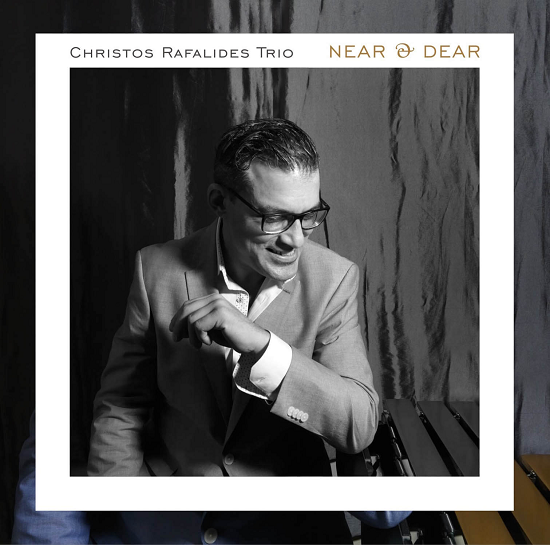 C
MRL Music / Jammin Colors
Les vibraphonistes ne sont pas légion: en voici un encore peu connu en Europe mais qui a derrière lui une belle carrière aux Etats-Unis.
Christos Rafalides est né en Grèce. Après s'être initié au piano, il a entamé des études de percussions classiques avant de se tourner vers le jazz. Début des années '90, il s'inscrit au Berklee College of Music de Boston puis s'installe à Manhattan où il étudie avec Joe Locke, célèbre vibraphoniste qui a enregistré avec de nombreux pianistes: Kenny Barron (album Beautiful), Geoffrey Keezer (Live in Seattle), Frank Kimbrough ((Beauty Burning) ou l'Italien Dado Moroni (Stepping on stars).
A New York, Rafalides se produit avec Ravi Coltrane, Antonio Sanchez et fonde le groupe Manhattan Vibes avec John Benitez à la basse et Steve Hass à la batterie. Pour l'album Manhattan Vibes, le trio invite le trompettiste Randy Brecker.
En 2005, Rafalides enregistre Van Gogh by Numbers, avec son mentor, Joe Locke puis multiplie les projets dans lesquels il marrie jazz et racines grecques (Dark Sand, Blue November, Point Two).
Pour Near & Dear, il propose une formule peu courante: un trio vibraphone-basse-batterie. Pas de piano ou de guitare comme nombre de vibraphonistes le font.
A la basse, selon les plages, il est accompagné tantôt par l'Américain Mike Pope (6 titres), tantôt par le musicien d'origine grecque Petros Klampanis (7 titres). Le premier, adepte de la contrebasse comme de la basse électrique à 6 cordes, a côtoyé les frères Brecker, Mike Stern, Jeff Tain Watts et, point commun avec Rafalides, Joe Locke. Le second, après des études classiques à Athèmes, s'est installé aux USA où il a croisé le saxophoniste Greg Osby, le guitariste Gilad Hekselman comme le pianiste français Jean-Michel Pilc.
A la batterie, Rafalides a fait appel à Mauricio Zottarelli, musicien d'origine brésilienne qui, lui aussi, a étudié au Berklee College et, à New York, a croisé Eliane Elias, Paquito D'Rivera, Joe Lovano ou Richard Galliano, se frottant ainsi à différents styles musicaux.
Le répertoire choisi par Rafalides reflète ses goûts éclectiques, sa volonté de marier des époques et des styles musicaux très différents. D'abord, de grands classiques du jazz complètement revisités: With a song in my heart de Rodgers, Somewhere de Bernstein, All or Nothing at all d'Altman ou un Cherokee dont il modifie profondément le rythme. Des emprunts à des compositeurs modernes: Eternal Child de Chick Corea, Little Sunflower de Freddie Hubbard, Teddy de Bobby Hutcherson et Social Drones de Ralph Alessi joué en solo. Deux compositions originales au tempo vif: Brunch Madness et Rainbows and clouds. Mais aussi Hatari d'Henry Mancini; Secret Love, belle mélodie écrite par le compositeur de musique de film Sammy Fain et, petite incursion latino, Alfonsino y el mar, composé par Ariel Ramirez pour la chanteuse Mercedes Sosa.
Ce répertoire éclectique permet au vibraphoniste de se confronter à une grande variété de styles et d'influences: l'héritage de Joe Locke mais aussi le lyrisme de Gary Burton à quatre mailloches (Eternal Child), le style plus rythmique de Hutcherson ((Teddy, Hatari), l'apport latino à la Cal Tjader.
Pour cette formule sans filet, Christos Rafalides peut compter sur le jeu très mélodique de la basse que ce soit Mike Pope (solo sur Hatari et Secret Love, intro de Little Sunflower) ou Petros Klampanis (Eternal Child) comme sur le jeu très coloré de Mauricio Zottarelli.
Une belle réussite. Un musicien à découvrir, Joe Locke vante à raison "sa grande maîtrise technique, sa compréhension profonde de traditions musicales variées et sa sonorité personnelle."
© Claude Loxhay
Musiciens:
Christos Rafalides vibraphone
Mike Pope et Petros Klampanis basse
Mauricio Zotarrelli batterie