Christoph Irniger Trio - Open City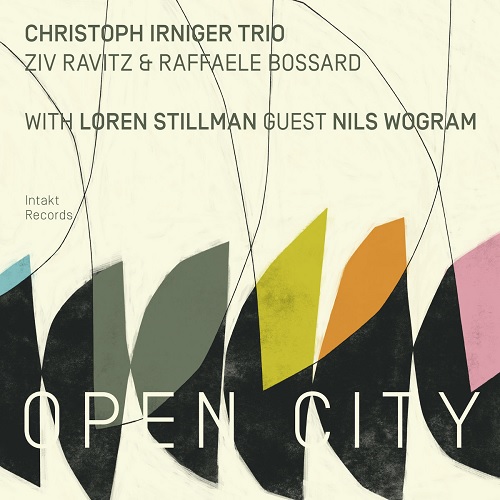 C
Intakt
avec Loren Stillman, invité Nils Wogram
Né en 1979, le saxophoniste ténor Christoph Irniger a poursuivi ses études musicales à Zurich, sa ville natale, puis à Lucerne. Il a enregistré un premier album, Chat noir, en 2007 et il a fondé son trio en 2012, avec le contrebassiste Raffaele Bossard et le batteur israélien Ziv Ravitz qu'on a pu entendre lors d'un Jazz à Liège avec le pianiste Yaron Herman et qui accompagne aussi Shai Maestro. Ce trio a déjà enregistré deux albums pour Intakt: Octopus et Gowanus Canal. Irniger a aussi constitué le groupe Pilgrim, en compagnie de Stefan Aeby (p), Dave Gister (g), Raffaele Bossard (cb) et Michi Stulz (dm), quintet qui a enregistré Crosswinds, Big Wheel live et Italian Circus story.
Pour cet album Open City, dont le titre est inspiré d'un roman de l'Américain Teju Cole, le trio accueille le Britannique Loren Stillman au saxophone alto et, en invité sur trois plages, le tromboniste allemand Nils Wogram.
Né à Londres, Stillman a poursuivi ses études à la Manhattan School of Music et a fait partie du Liberation Music Orchestra de Charlie Haden et joué avec Paul Motian. A son nom, il a enregistré, pour Pirouet, Blind Date et Winter Fruits.
De son côté, Nils Wogram a étudié à New York et à Cologne. Il a formé le Nostalgia Trio avec l'organiste Arno Krijger (Things you like to hear), le Vertigo Trombone Quartet (The good life) et enregistré en duo avec Bojan Z (Housewarming, chroniqué sur jazzaroundmag). En 2002, lors du premier Jazz!Brugge, il a présenté son sextet, avec Claudio Puntin à la clarinette basse et faisait partie du groupe Underkarl du contrebassiste Sebastian Gramms.
Au répertoire d'Open city, dix compositions originales, huit d'Irniger et deux de Bossard, l'occasion de varier les formules: trio (Hot and Humid), quartet à deux saxophones (My world, 40 years of an old wise lady) ou quintet avec le trombone de Nils Wogram à la sonorité chaude (Ballad, bel échange avec le ténor sur Open City et beau solo sur Time).
Evidemment, le ténor d'Irniger reste central au fil des plages (beaux solos sur My world, Hot and Humid, 40 years of an old wise lady), beaux dialogues avec l'alto (My world, The new dope, Mass media minion). Des espaces solo sont aussi réservé à la contrebasse volubile de Raffaele Bossard: My world, Calling, belles intros avec la batterie sur The new dope ou Mass media minion.
Open city repose sur un bel équilibre entre composition et improvisation, entre tension (Hot and humid, Open city) et ballades (Time, Ballad).
© Claude Loxhay
En partenariat avec jazzaroundmag