Christian McBride - The Movement Revisited, A musical portrait of four icons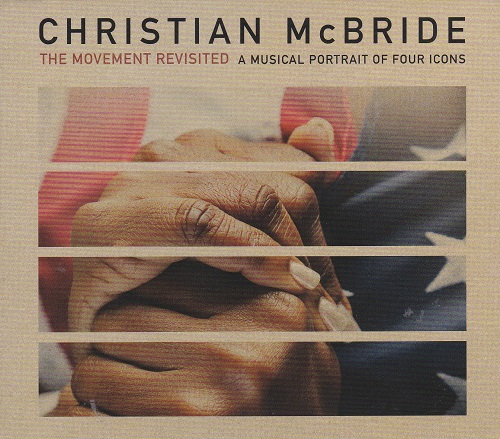 C
Mackavenue/newartsint.
Né à Portland en 1998, ce projet du contrebassiste Christian McBride voit le jour grâce à une commande de la Portland Arts Society, une pièce pour un quartet et un chœur dont quatre éléments seront aussi les narrateurs reprenant les mots de Rosa Parks, Martin Luther King, Malcolm X et Mohammed Ali.
Dix ans plus tard, alors que le contrebassiste occupe la chaire de jazz au Los Angeles Philharmonic, il lui est demandé de reprendre l'œuvre mais cette fois avec ce que lui offrait comme ressources le LA Philharmonic, à savoir la possibilité de former un big band, plus un choeur. « The Movement revisited » sera rejoué au « Walt Disney Concert Hall », et deux ans plus tard, à l'Université du Michigan, un nouveau volet y sera ajouté, « Apotheosis : November 4th 2008 », associé au jour de l'élection de Barack Obama, une date marquante dans l'Histoire du mouvement noir aux Etats-Unis.
L'œuvre était ainsi complète… et pouvait subir la critique : celles de ceux qui posent la question de savoir ce que Rosa Parks a à voir avec Muhammad Ali, celle de ceux qui posent la même question à propos de Martin Luther King et Malcom X : Christian McBride, lui, les voit comme deux entités différentes luttant pour la même chose. La position de Harry Belafonte vient ajouter sa dose de tumulte dans l'esprit de McBride. Pour en savoir plus, vous êtes invités à lire le texte pochette détaillé écrit par le contrebassiste-porteur de ce projet en octobre 2019, juste avant la sortie de cette œuvre.
Car il s'agit bien d'une œuvre autour de quatre personnalités choisies par McBride parce que « ces quatre icônes m'ont touché personnellement. » Divisé en treize mouvements où, entre ouverture et apothéose, Rosa Parks, Malcom X Muhammad Ali et Martin Luther King voient leurs paroles récitées par des poètes, écrivains et acteurs, « The Movement Revisited » inclut tout ce que l'Amérique noire a apporté à la musique d'aujourd'hui, gospel, blues, jazz. 
Enregistré à New-York en 2013, « The Movement revisited » réunit dix-huit musiciens : cinq sax parmi lesquels Steve Wilson et Ron Blake, quatre trombones dont Steve Davis, cinq trompettistes dont Lew Soloff  pour qui cet enregistrement sera sans doute un des derniers. Et quatre récitants recrutés dans le monde du cinéma et du théâtre pour les parties narratives. Les parties musicales sont particulièrement prenantes, intenses, chargées de sens, l'association chœur-souffleurs touchant parfois au sublime. La connaissance de l'anglais est bien utile pour saisir les discours des intervenants, mais l'ensemble est marqué d'une telle force que le message passe.
Plus qu'un message de protestation tel qu'il avait été transmis avec des titres comme « Alabama », « Attica Blues », « Mississippi Goddam » et bien d'autres, « The Movement Revisited » se veut plus un témoignage de l'Histoire du mouvement noir américain. Une  brillante réussite dans la discographie du contrebassiste.
© Jean-Pierre Goffin