Christian McBride Big Band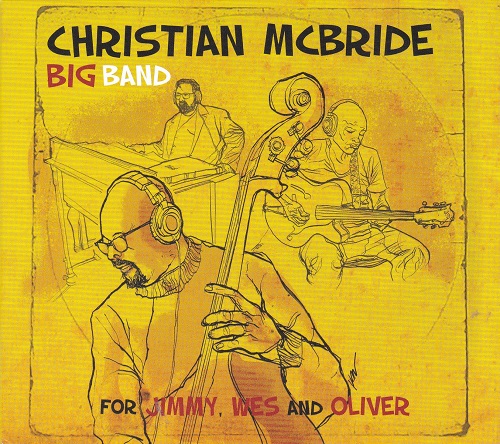 C
MackAvenue / Newartsint.
Il est incontestablement un des tout grands bassistes/contrebassistes actuels. Sur son site, plus de 350 enregistrements en tant qu'accompagnateur sont répertoriés, ajoutez-y les disques en leader, tout ça à moins de quarante ans ! Qui se souvient de sa première apparition chez nous, au Forum de Liège avec Roy Haynes, Pat Metheny et le tout jeune Joshua Redman ? Plus d'un était sorti de ce concert en disant qu'il venait de voir le digne successeur de Ray Brown, élégance, classe, justesse du tempo, profondeur, tout y est.
Est-il étonnant que ce musicien se soit un jour lancé dans l'aventure du big band ? Parmi ses paires, viennent à l'esprit Ron Carter (« Pas facile de diriger, on a les deux mains prises tout le temps » disait-il lors d'une interview au journal « Libération »), Dave Holland, Pierre Michelot, Pierre Boussaguet… On trouve donc pas mal de contrebassistes-leaders de grand orchestre, et si Christian McBride s'ajoute à la liste, sa présence laissera des traces.
Avec ce « For Jimmy, Wes and Oliver », le contrebassiste rend hommage à trois grandes figures du jazz : Wes Montgomery dont il reprend « Road Song », Jimmy Forest avec « Night Train » et Oliver Nelson, arrangeur du traditionnel « Down By The Riverside » et de « Milestone ». Sept thèmes en big band, mais aussi  trois en quartet – avec Joey de Francesco, Mark Whitfield et Quincy Phillips : la merveilleuse valse de Freddie Hubbard « Up Jump Spring », la ballade de Ray Noble « The Very Thought of You », le thème fétiche de Coltrane, composition de Billy Eckstine « I Wanna Talk About You » et une compo de De Francesco « Don Is ». Voilà pour le menu. Pour ce qui est dans l'assiette, on se délecte de bout en bout.
Sur « Night Train », McBride conserve le riff d'origine et la sonorité ellingtonienne du thème (Jimmy Forest était membre de l'orchestre d'Ellington lorsqu'il composa ce thème). Mark Whitfield se fond à merveille dans l'esprit Wes Montgomery sur « Road Song », une de ses grandes influences. Sur tempo medium, De Francesco régale sur la valse de Freddie Hubbard, tout comme sur la version veloutée de « The Very Thought of You » où McBride prend un beau solo à l'archet. Deux arrangements d'Oliver Nelson sur le standard de Miles Davis « Milestone » et  un « Down by the Riverside », très enlevé  où encore une fois Joey de Francesco (« my oldest friend in music » dit Christian McBride) s'impose comme le plus grand organiste Hammond de ces vingt dernières années. L'album baigne dans le blues sur les deux derniers thèmes, une composition de Mark Whitfield d'abord, « Medgar Evers' Blues » où le big band se passe de la section de saxophones, et en clôture « Pie Blues » co-composé par De Francesco et McBride.
Un album empreint d'une réjouissante tradition et qui donne du plaisir de bout en bout.
© Jean-Pierre Goffin